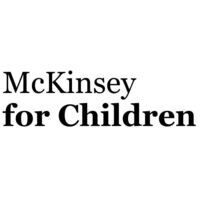 McKinsey for Children e.V.
managed by Sarah Hagemann
About us
McKinsey for Children wurde 1995 als unabhängige Organisation von Beratern, Ehemaligen und Freunden gegründet, um Kinder in Not zu unterstützen. Gegenwärtig unterstützen wir 12 Projekte in 9 Entwicklungsländern finanziell und durch professionelle Beratung.
Auf diese Weise tragen wir derzeit dazu bei, das Leben von mehr als 700 Kindern zu verbessern. Wir bieten den Kindern in Regionen, die von großer Armut geprägt sind, Bildung, Mahlzeiten und Unterkunft.
Die Dauer unserer Unterstützung variiert, beträgt aber immer mindestens drei Jahre, um eine nachhaltige Veränderung der Situation der Kinder zu gewährleisten.

Bisher war unsere Geschichte überwältigend erfolgreich, da wir Millionen von Euro an Geldern gesammelt und Tausenden von Kindern ein erfolgreiches Erwachsenenleben ermöglicht haben.

Jetzt wollen wir noch weiter gehen und möchten Sie einladen, sich unserer Mission anzuschließen.
Latest project news
Wir haben 73,12 € Spendengelder erhalten
The McKinsey for Children charity was established in 1995 to support children in need around the world by improving their prospects in childhood and guiding them along the path to a successful adult life.

We currently sponsor 14 projects in 11 developing countries, supporting more than 700 children in need. All projects are devoted to helping children in need by providing education, meals, or shelter. The projects receive both financial support and professional advice.

A-HA supports Filipino public school students to graduate from college and prevents children from dropping out of school early. 
continue reading
Contact
Sophienstrasse 26
80333
München
Germany


Sarah Hagemann
New message
Visit our website