Emukhunzulu-Patengemeinschaft e.V.
managed by Uschi J.
About us
About an hour north of Lake Victoria near the city of Kakamega, in the far West of Kenya, you find the little village of Khumusalaba. Some years ago a primary school was founded there, the Emukhunzulu Education Centre. At the moment the school accommodates more than 200 children, spread over 5 classes as well as a baby-class, nursery, and pre-unit. The population of Khumusalaba is extremely poor. Most people are farmers but their harvest is hardly enough to meet their most basic needs. The families with many children often live in extreme neediness. AIDS and other diseases take mother or father from children who are being placed in relatives' families although those families can hardly take care for themselves. Those children are going hungry; they have practically no medical care, and little to wear. Under these circumstances it is often difficult to consider a school education for these kids as it is very hard to raise the money needed for e.g. school supplies or uniform. Besides many families cannot do without the money those children. Besides these families can rarely do without the money these children would earn working instead of attending school. But without education there is no hope for a better life. So several donors got together and founded the 'Emukhunzulu Patengemeinschaft' (sponsorship community). Together with another association which supports the school already by financing some of their projects we developed a concept how to support headmaster and children at the EEC. During the first nine months we could grant a sponsorship already to 58 children and so, 58 children could attend school on a regular basis and their basic needs could be supplied with the absolutely necessary. Additionally further teachers could be hired.
Latest project news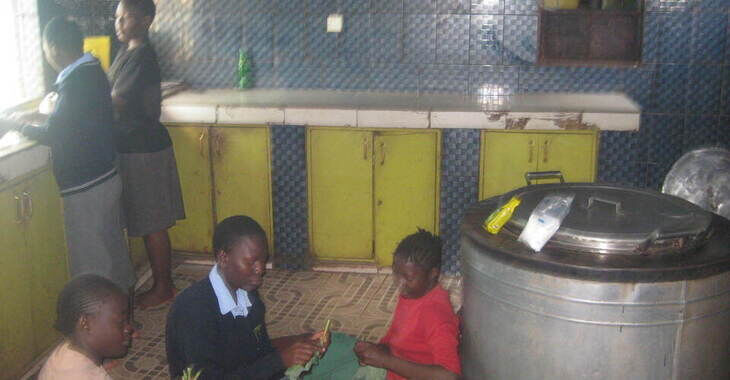 Wir haben 29,25 € Spendengelder erhalten
Wir freuen uns sehr, Ihnen mitteilen zu können, dass Ihre Spende jetzt zur Auszahlung bereit steht und wir bei dem nächsten Transfer die notwendigen Nahrungsmittel für die Schulküche ordern lassen können. Dafür danken wir Ihnen im Namen des Emukhunzulu Education Centre in Kenia ganz herzlich und wünschen Ihnen alles erdenklich Gute. möchten wir uns im Namen Emukhunzulu Education Centres in Kenia ganz herzlich bedanken und wünsche Ihnen alles erdenklich Gute.
continue reading