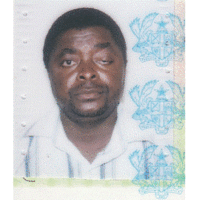 NUBIANS RENEWAL ORGANIZATION
managed by O. ETTU BONDY
About us
SCHOOL FOR THE CHILD LABOURER PROJECT:
a) Rationale:- The Volta Lake reservoir which is conducive for irrigation, potable water projects and fishponds etc and is the main source of freshwater fish in the UMK District and Ghana in general. Fishing in Lake Volta (with a surface area of 8,480 km² and 5,200 km of shoreline) contributes about 90% of the total inland fishery production in Ghana. The sad issue of this world largest manmade Lake is that over 3,000 children are been used as Child Labourers all over the surroundings of this great Lake and in our small way we think it fit to help the few that we can to enjoy education till NRO gets the means to rescue them to an Orphanage which would be build by NRO.
b) Objective:- To prepare them through our ongoing Weekends School Approach while effort are been made to secure funds to build Modern Orphanage and Aquaculture Training Center to give the fisher folks and youths skills in life as an alternative source of livelihood.
c) Innovation:- NRO would built Modern Aquaculture Training Center too at Akateng to train the fisher forks in modern Aquaculture and Fishing practice and educate them on Rights of the Child, to stop the use of Child Labourers in any form. NRO believes the only way to achieve total elimination of the use of CHILD LABOURERS along the Volta Lake is to Educate and empower the fisherfolks, through Alternative Livelihood approaches such as modern Aquaculture (Cage Culture) and train the fisherwomen too in modern fish processing, credit management and simple bookkeeping in the district to create employment, reduced poverty and improved their nutritional intake.