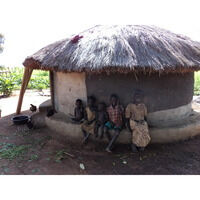 KAIROS CHARITY COMMUNITY DEVELOPMENT ORGANIZATION
managed by B. Odongkara Mpora
About us
Kairos is a Greek word which means "The Right Timing". Given the situation, it was the right for providing a holistic health, education, development and psychosocial support to the poor and hurting population recovering form war.

Kairos is a charitable organization registered in Uganda, East Africa, with the aim of empowering the population of post conflict Northern Uganda to take care of their own health and development through the creation of a self sustainable approach to life while slowly building the confidence of the population that had lost hope as a result of the 2 decades conflict.

Kairos was founded in Uganda, Gulu District in 2006 as a non-profit charitable organization, founded by a group of University lecturers, teachers, medical doctors, psychologists, and religious leaders.

Kairos currently provides health, development, education and psychosocial support to returnee population of Gulu and Amuru districts. The Organization has built a health unit at Barogal village Koro Sub County Gulu District that has provided health services including Distribution of more than 3000 Long Lasting Insecticide treated bed nets, HIV Counseling and Testing to 100 children and over 500, Carried out immunization to more than 1,000 children & mothers in the last one year, ANC care and PMTCT to pregnant mothers, general comprehensive medical care to over 700 clients with different ailments, trained 21 youth leaders in community mobilization, leadership and social Justice, advocacy and self help development projects.
Latest project news Donations that cannot be used for the project
Dear donors,
when managers of a project haven't requested a payout over the course of a longer period, the German law and our terms of use provide that we (gut.org gemeinnützige AG, operator of betterplace.org) use the money for our tax-deductible purposes. The same applies to the cancellation of a project, where the manager of the project is unable to realize it.

Therefore we will use these donations for the following purposes

Thanks for your support,
the betterplace.org-team
continue reading