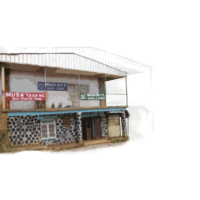 Mus'Art Gallery
managed by P. Musa
About us
About Us:

The Musa Heritage Gallery, shortly Mus'Art Gallery, was established in December 1996 dedicated in memory of Cameroonian woodcarver Daniel Kanjo Musa (1930–1995) and his eldest son John Yuniwo Musa (1956–1996). It houses a collection of over 400 art objects that were mainly created between 1970 and 2000 and range from bamboo work to wood carvings, from basketry to pottery.

Role of Mus'Art Gallery:

1. collect, preserve, exhibit, interpret and promote the artistic heritage of the Grass-fields region.
2. propagate Nso' cultural heritage; especially its traditional art and craft; preserve in response to the loss of the precious art objects so the art of the past is not lost to the region;
3. introduce Cameroonians to their artistic heritage; satisfy the growing interest in Cameroonian art for a broad national and international audience;
4. support the arts and crafts of the Western Grass-fields of Cameroon;
5. highlight the excellence and diversity of regional artists, past and present, so these may become known nationally and internationally;
6. make the arts and crafts of this region of Cameroon known publicly in Cameroon and internationally.

Mission:

Mus'Art Gallery is focused on the preservation, education and promotion of the artistic and cultural heritage of the Grass-fields of Cameroon. The arts can effectively be used to fight poverty; contribute to the creative sector; boost tourism and build on artistic wealth for the artists and for our nation. Our museum thus recognizes the arts as fundamental to job creation; income generation; for talented and unemployed youths as a sure path towards sustainability and growth from a non-formal setting. Traditional arts experiencing a decline must be revamped to ensure continuity and identity of our people.