Institute for Global Peace Work / Grace Foundation
managed by j. bertholo
About us
GRACE
Being peace workers walking in the name of GRACE, they did not come to the land to judge but to share in the lives of the human beings, to understand their situation from within themselves and to look for solutions from this vantage point. "We refuse to be enemies" was the sentence of empowerment which daily accompanied community building amongst so many different people.

Through the protection by the international group, the GRACE pilgrimages provide the possibility to directly experience and witness the state of the world in regions of conflict It allows pilgrims to enter global thinking and to find a position of effectively cooperating in global healing. The GRACE-Pilgrimages show paths out of powerlessness.

As co-workers of the Peace Research Center Tamera in Portugal, they develop a global perspective by researching and constructing concrete models of peace. (more: www.tamera.org)

The next pilgrimage is planned to take place in October 2008 in Colombia in cooperation with the Peace Village of San José de Apartadó. (more www.sos-sanjose.org). The GRACE-Pilgrimage through Israel/Palestine was a preparatory step towards the planned Peace Research Village (More on the Peace Research Villages: www.prv-association.org).
Latest project news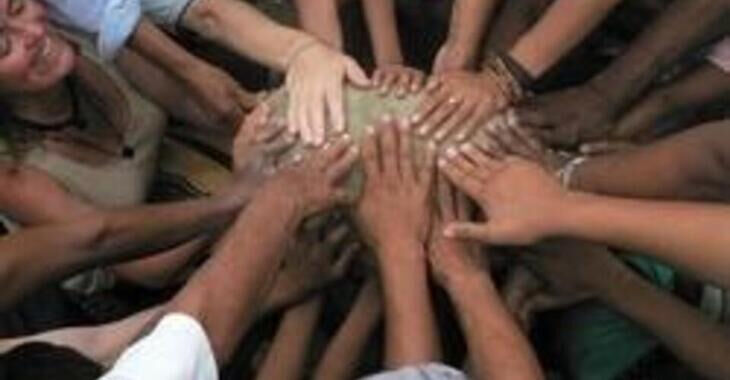 GRACE Pilgrimage - Walking Together for Peace
For 5 days a group of approximately 400 people from all over the world will Walk for Peace in Colombia led by Sabine Lichtenfels, Padre Javier Giraldo and Benjamin von Mendelssohn.
Passing through villages and hamlets surrounding the area of San Jose, an area unprotected between the fronts of civil war, participants will be confronted with the threatened reality for Colombian peasants and how they can be part of developing global peace strategies for crisis areas around the world.
Together with the inhabitants of the Peace Village San José de Apartadó and other Colombian peace communities, each Pilgrim will show with this peace action their commitment to create a global peace force that no longer stops at national borders.
The Grace Pilgrimage - Colombia 2008 is the 3rd Pilgrimage led by Sabine Lichtenfels in the name of Grace and was inspired by the long standing cooperation between the Tamera peace research centre in Portugal, the Peace Village San José de Apartadó in Colombia and the Peace Research Village Association in Germany. Colombia 2008 will also see the very first event of the Global Campus Initiative - a world wide education programme bringing together theory and practice in all relevant areas of life that will support a future without war.
The Global Campus Initiative has at its core the premise that knowledge is empowerment. It is by creating, receiving and acting with a knowledge of peace that we, as human beings, will be able to direct the present global transformation into a positive transition. As peace workers it must now be our urgent task to create that knowledge base in its most concrete forms. In conjunction with our cooperation partners in Israel/Palestine, India and Colombia a global education curriculum is being designed that is driven by the following elements: community, theory into practice, all-encompassing&concrete models, study sites.
At present the Global Campus comprises of Tamera peace research centre (Portugal), Universidad de la Resistencia (Colombia) and the Holy Land Trust (Palestine). Walking Together for Peace Peace Pilgrimage 01 - 05 October 2008 Creating Knowledge for a Peace Culture Educational Camp 07 - 17 October 2008.
Fore more information please visit > www.grace-pilgrimage.com
Help bringing teachers into the Global Campus here > www.betterplace.org/projects/45
continue reading
Contact
Monte do Cerro - P-7630 Colos, Portugal
Colos
Portugal


j. bertholo
New message
Visit our website