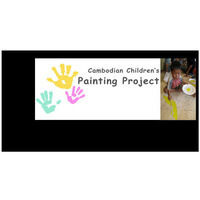 Cambodian Children's Painting Project
managed by Cambodian Children's P.
About us
The Cambodian Children's Painting Project was founded in 2006 by artist Roger Dixon in response to the growing need for social support programs for children in Sihanoukville; Cambodia's Southern coastal city. CCPP's objective is to provide vulnerable children with the opportunity to develop their imagination, creativity, confidence and knowledge through artistic expression and education. CCPP is a day center that provides a safe caring environment for children to paint and do crafts, learn English and computer skills and attend field trips and special events. Children are also given a healthy lunch and snack each day, free medical and dental care, Khmer and English school , family support and opportunities for continued education. CCPP is inclusive and completely free to all members and is always looking for new ways to support Sihanoukville's children and families.

CCPP is a registered NGO in Cambodia, Australia and Sweden. CCPP is funded by the sale of children's paintings and by private donations from our wonderful network of volunteers, supporters and friends.
Latest project news
CCPP SUPPORTS A FAMILY
We have just made our first micro loan to help a family with five children purchase a moto bike so that they can make a business collecting cans from restaurants and reselling them, as well as doubling as a motodop.This will secure them an income to provide for the families needs.
continue reading
Contact
Serendipity Beach Road
Sihanoukville
Cambodia


Cambodian Children's P.
New message
Visit our website