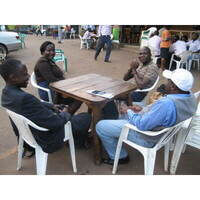 Green Cross Uganda Limited(GCU) LTD
managed by M. Issa
About us
Green Cross Uganda LTD is a private limited company/organisation incorporated on the 23.July 2007 in Uganda with major objectives of carrying of business of magazine,periodical and journal proprietors, book publishers and sellers, press agents, newsagents and wholesale and retail stationers.

This company also has other objectives of carrying on business of professional consultancy services in the areas of environment advisers, management practice and the training and utilization of personnel for the environment management industry and to advise on the extending, developing and improving of all types of services.
The organisation has a fundamental commitment of instilling into primary school pupils the noble task of creating environmental awareness with the aims of raising an environmentally cautious and responsible generation.
The organization strives to undertake campaigns through the media and printed press about a cleaner and better environment both in rural and urban settlements.
The organization seeks to cooperate with government agencies in its endeavours to clean up the environment using resources available to it.