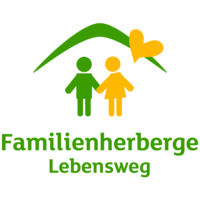 Familienherberge Lebensweg gGmbH
managed by Isabel Berger
About us
Offer support. Giving free space.
Regeneration for families with seriously ill children.
Since 2018, we have been offering families with seriously ill and disabled children short-term residential places equipped to meet their needs for a relaxing family break. During their stay, the child in need of care is professionally and lovingly cared for around the clock by our specially trained staff. Parents and siblings, meanwhile, can once again attend to their own needs, spend the day as they please and recharge their batteries.
A groundbreaking concept - and a benefit for the whole family.

The care and support is provided without regard to faith, race or nationality.
It is our concern to integrate volunteers in all areas of our house.
Latest project news
Wir haben 29,25 € Spendengelder erhalten
Liebe Unterstützer der Familienherberge Lebensweg,
es ist so schön zu beobachten, wie wohl sich die Gastfamilien bei uns fühlen. Jetzt in der warmen Jahreszeit finden natürlich viele Aktivitäten im Freien statt. Unsere Gastkinder treffen sich zum Morgenkreis im Innenhof, dabei wird Gitarre gespielt, gesungen, geklatscht und vieles mehr. Unser Spielplatz wird rege genutzt und auch das wöchentliche Reitangebot beim benachbarten Pferdehof ist bei unseren kleinen Gästen sehr beliebt. Immer wieder erleben wir dabei, welche besondere Wirkung Tiere auf die Kinder haben, wie entspannt und glücklich sie auf dem Pferderücken sitzen. Unsere kunterbunde Runde am Freitagnachmittag lädt Kinder mit und ohne Behinderung zum gemeinsamen Spielen und kreativen Werken ein. Toll, dass das alles derzeit wieder möglich ist. 
Die Buchungsanfragen nehmen seit der Eröffnung unseres Hauses im Jahr 2018 stetig zu. Für das laufende Jahr 2022 sind wir (mit 6-7 Gastfamilien pro Woche) vollständig ausgebucht. Für 2023 liegen uns ebenfalls schon zahlreiche Anfrage vor.
Ohne Sie und Ihre großzügige Unterstützung liebe Spender und Förderer wäre ein Betrieb wie die Familienherberge Lebensweg nicht möglich. Denn nur mit Spenden und Fördergeldern ist unser Erholungsangebot für Familien mit schwersterkrankten und behinderten Kindern finanziell mittel- und langfristig gesichert. 
Herzlichen Dank, dass Sie uns bereits unterstützt haben und es möglich machen, eine Einrichtung wie die unsere für kranke Kinder und Ihre Familien anzubieten. 

https://betterplace-assets.betterplace.org/uploads/project/image/000/061/480/288693/limit_600x450_image.jpg



continue reading
Contact
Hinter dem Dorf 50
75428
Illingen-Schützingen
Germany


Isabel Berger
New message
Visit our website