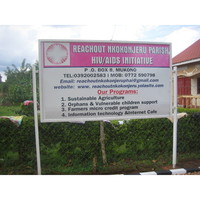 Reachout Uganda e. V.
managed by Anthony K.
About us
Only a healthy person can take care of himself. Therefore, he needs access to clean water and improved sanitary conditions. In addition to the health of the people, the economic independence of the families is the basis for improved living conditions. In rural areas, opportunities are created to strengthen the yields of their own agriculture. Stable income makes it possible for families to give children access to education. The women who are the "family managers" in Uganda receive special support. Thus, among other things, micro-loans are given to women in order to enable the start of their own "business".

The special thing about Reachout Uganda is that we offer support at eye level. The local partners know best what the population needs and what is lacking. They are the specialists and make suggestions as to which projects make sense. We never specify what funds should be used for.