Cambodia Child Aid
managed by tom v.
About us
Cambodia Child Aid e.V. aims to improve the living conditions of the children in a rural commune in Cambodia. The commune Roeul is located about 40 km NW of Siem Reap City, where our sister organization CAMDOC has its office. Roeurl counts 14000 people of which almost 7000 are younger than 18 years. The average family income is $40 per month. In the 14 villages of the commune there is no current water, no electricity and no waste water system. The sanitary and hygiene situation is very poor. Many families are due to their financial situation not able to send their children to school..
Our projects: individual support of the poorest families (foster families), drilling clean water wells with hand pumps, founding the CAMDOC Training Center, for free education in English, computer education and vocational training (sewing atellier), improvement of the sanitary conditions according the PHAST priciples defined by the W.H.O., i.e. initiating involvement of the villagers is required The last project will be carried out in close cooperation with the Ministry of Rural Development.
Latest project news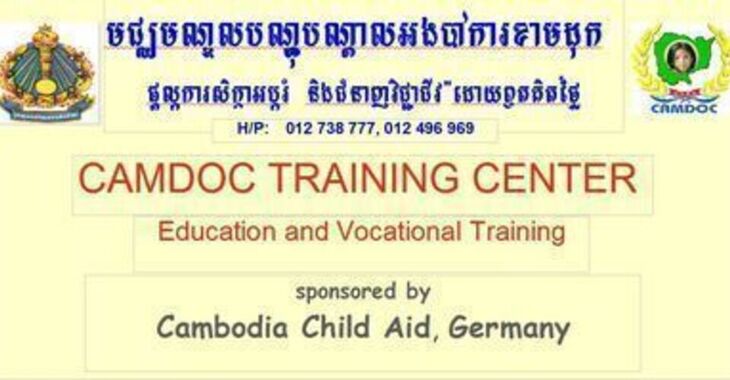 Schulraum als Nähschule eingerichtet
Aus privaten Spenden haben wir 15 Nähmachinen gekauft und damit unser Nähatelier eingerichtet. Das Suchen nach einem qualifizierten Lehrer(in), der/die außerdem bereit ist jeden Tag ins Dorf zu fahren, verläuft leider etwas schwierig. Trotzdem hoffen wir noch in der ersten Helfte des Monats Juni den erste Kurs anfangen zu können. Ein Nähkurs dauert 4 Monate, wonach die Kursiste als gelernte Näher(innen) bessere Möglichkeiten haben einen Job zu finden oder selbst einen kleinen Nähstuben anzufangen. Künftig werden wir dazu auch Einführungskurse in Betriebsführung organisieren. Die erste Bilder aus der Schule in Betrieb werde ich bald veröffentlichen. Bei den Projektbildern ist eins mit der Aufstellung der Nähmachinen.
Das Unterrichtszentrum wird in Oktober offiziell eröffnet. Wir werden dabei sein und darüber ausführlich berichten. Natürlich möchten wir dann mit der Computerschule soweit sein dass wir auch damit anfangen können. Bitte helfen Sie uns dieses nächste Ziel rechtzeitig zu erreichen.
Unsere Projekt-Bilder (klicken auf das Logo 'Camdoc Training Center') zeigen die Sicht von der Schulklasse hinaus, die Bohrarbeit eines neuen Brunnen, eine Versammlung mit Lehrern und Dorfhäuptlingen über gewünschte Projekte, die Sudenten der Englischschulklasse, einen Blick ins Dorf, das Haus einer der ärmsten Familien, eine Schulklasse der Basisschule, zwei von unseren Patenkindern, ein Bild eines auf dem Boden behandelten Patienten im lokalen Gesundheitszentrum, das mit nur 4 Verpflegern zuständig ist für die gesamte Gemeinde mit 14000 Einwohnern und neugierige Kinder beim Testen der Wasserqualität der von uns gespendete Brunnen und Schulbrunnen.
tom van baten
continue reading
Contact
Elsässerstraße 15
81667
München
Germany


tom v.
New message
Visit our website