Für Frauen in Flores e.V.
managed by B. Wallner
About us
15 years ago, we founded a women's weaving group in East Indonesia on the island of Flores with the intention of enabling girls to attend school with the additional money the women earn. At the same time, it was important to us that natural dyes were used again so that the soil and scarce water [supply] do not continue to be polluted by chemical residues.
The women received orders from us to create blankets, sarongs, pillows and bedspreads in the ikat style (tie dyed), which we then sold at special markets in museums. The funds we earned in this way allowed us to place new orders.
The intention was not to turn these women into charity cases. From the beginning, we wanted to ensure a level playing field, in other words, they deliver their products and we pay them [fairly] – no dumping prices.
Our association initially assumed the transportation costs so that the women could be paid well. In the meantime they do not need us any longer.
Our women produce irresistibly beautiful sarongs, decorating hand-spun cotton with traditional patterns, using exclusively natural dyes, and as such the group is part of a far-reaching cultural group in Indonesia.
Our new project, for which we are asking for financial assistance, sells cashew nuts that grow on Flores in large quantities and are of excellent quality. Together with an NGO, we are working to found a group of farmers, if possible at the beginning of the nut harvest in October.
The NGO Swisscontact will begin training the farmers soon – free of charge.
But we need € 8,000.- for the basic equipment, which includes knives, tables, bowls, a drying oven, a vacuum packing machine, and many other items.
Translation:betterplace
Latest project news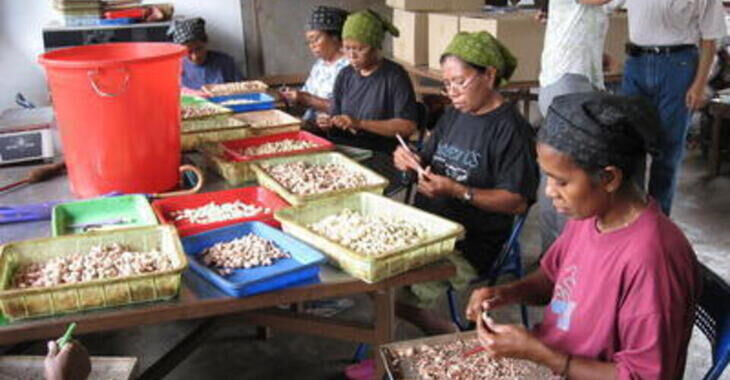 Danke
Liebe Spender,
wir wollen uns ganz herzlich für die überwiesenen Gelder bedanken.
Das Nötigste ist zwar angeschafft, dass das Projekt laufen kann, aber Vieles muss noch verbessert werden.
So haben wir große Probleme mit der Elektrizität, die oft total ausfällt oder mit nur sehr geringer Spannung zur Verfügung steht.
Wir wollen daher versuchen den notwenigen Strom mit Solar-Modulen zu gewinnen. Das würde auch besser in Fair-Trade und Bio passen als der Strom aus dem ölbetriebenen Generator in Maumere/Flores.
Sollte uns irgend jemand vorab mit Rat helfen können, wäre das toll.
Im Dezember 09 fliege ich wieder zu unserem Projekt, vielleicht habe ich bis dahin schon einige Informationenen.
Nochmals herzlichen Dank
Bärbel Wallner
"Für Frauen in Flores e.V"
continue reading
Contact
Walther-Heimstr. 5 c
86161
Augsburg
Germany


B. Wallner
New message
Visit our website