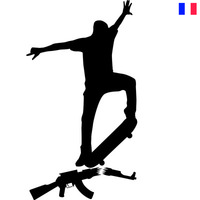 Skateistan France
managed by L. Dumeix
About us
I am a French business student passionate about skateboarding who wants to support the international NGO Skateistan through crowdfunding and local fundraisings events.

Skateistan uses skateboarding to empower girls and at-risk youth of all backgrounds in Afghanistan, Cambodgia and South Africa.
The organization provides free educational tutoring and skateboarding instruction in safe places where kids can play, learn, share, believe in themselves and create their futures.

'Give Her Five' is Skateistan's latest campaign. It stands for gender equality and for the rights girls have to be safe, play sport, go to school, have confidence and become leaders.

Everyone can help Skateistan reach its goal of raising $100 000 by December 31st.

You can find out more about the main organization at https://skateistan.org/
French-speakers can follow the organization on Facebook on the 'Skateistan France' page.