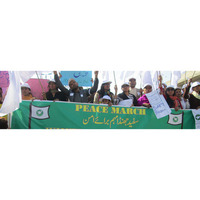 National Initiative for Community Empowerment
managed by Dilawar M.
About us
Nice came into existence in September 2010.this organization was founded by Mr. Dilawar Masih who deprived of his eye sight 27 years ago in a serious accident. He was checked up by many eye specialists but in the end the case was declaredhopeless. Mr. Dilawar was admitted into blind school where he learnt the skill of weaving cots and chairs. He started earning through this skill. He had been earning lively hood for his younger brother and sisters for four years. Then he founded an NGO. Nice is working without the discrimination of race, creed, religion and color. It is registered under society act 1860 of Pakistan.it is working in the rural and urban areas of Punjab.

The main beneficiaries of Nice are:
Oppressed women
Marginalized children
Working children
Low income women
Minorities
Brick kiln workers
And for the rights of women children and minorities
Contact
Street # 9 D-block, Barkat Pura,
Faisalabad
Pakistan


Dilawar M.
New message
Visit our website