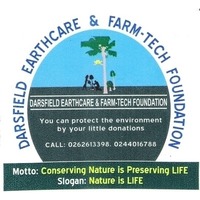 Darsfield EarthCare & Farm-Tech Foundation
managed by K. Darkudzi
About us
Darsfield EarthCare & Farm-Tech Foundation is agriculture in environment civil society operating in Ghana. Darsfoundation is assisting Community Based (CBO's) and Farmer Based Organisations (FBO's) in the rural community with capacity building, farm inputs, arranging micro-financing, access to domestic and international markets. It is expected that these projects will reduce unhealthy dependence on natural forest resources, provide employment, reduce crime and increase the socio-economic status of the communities, Farmers, after training are mobilized to come together as cooperative/ association 'Out-Growers' since we stand no chance in the face of globalization and liberalization. We are helping to eradicate poverty in rural Ghana and we would reduce poverty by providing jobs through farming and creating wealth for our young men and women. Develop hidden talents in our women &youths into taking the opportunities that abound in natural resources and sustainable agriculture
Latest project news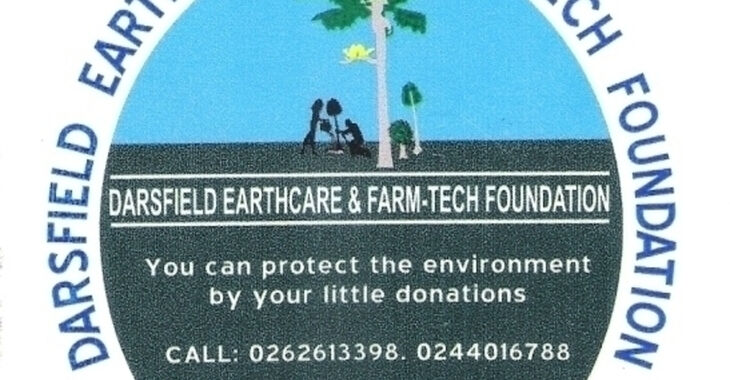 Working with the Youths and People living with Disabilities
<!-- /* Font Definitions */ @font-face {font-family:Wingdings; panose-1:5 0 0 0 0 0 0 0 0 0; mso-font-charset:2; mso-generic-font-family:auto; mso-font-pitch:variable; mso-font-signature:0 268435456 0 0 -2147483648 0;} @font-face {font-family:Wingdings; panose-1:5 0 0 0 0 0 0 0 0 0; mso-font-charset:2; mso-generic-font-family:auto; mso-font-pitch:variable; mso-font-signature:0 268435456 0 0 -2147483648 0;} @font-face {font-family:Calibri; panose-1:2 15 5 2 2 2 4 3 2 4; mso-font-charset:0; mso-generic-font-family:swiss; mso-font-pitch:variable; mso-font-signature:-536870145 1073786111 1 0 415 0;} /* Style Definitions */ p.MsoNormal, li.MsoNormal, div.MsoNormal {mso-style-unhide:no; mso-style-qformat:yes; mso-style-parent:""; margin-top:0in; margin-right:0in; margin-bottom:10.0pt; margin-left:0in; line-height:115%; mso-pagination:widow-orphan; font-size:11.0pt; font-family:"Calibri","sans-serif"; mso-fareast-font-family:Calibri; mso-bidi-font-family:"Times New Roman";} p.MsoNoSpacing, li.MsoNoSpacing, div.MsoNoSpacing {mso-style-priority:1; mso-style-unhide:no; mso-style-qformat:yes; mso-style-parent:""; margin:0in; margin-bottom:.0001pt; mso-pagination:widow-orphan; font-size:11.0pt; font-family:"Calibri","sans-serif"; mso-fareast-font-family:Calibri; mso-bidi-font-family:"Times New Roman";} .MsoChpDefault {mso-style-type:export-only; mso-default-props:yes; font-size:10.0pt; mso-ansi-font-size:10.0pt; mso-bidi-font-size:10.0pt; font-family:"Calibri","sans-serif"; mso-ascii-font-family:Calibri; mso-fareast-font-family:Calibri; mso-hansi-font-family:Calibri;} @page WordSection1 {size:8.5in 11.0in; margin:1.0in 1.0in 1.0in 1.0in; mso-header-margin:.5in; mso-footer-margin:.5in; mso-paper-source:0;} div.WordSection1 {page:WordSection1;} /* List Definitions */ @list l0 {mso-list-id:2046827857; mso-list-type:hybrid; mso-list-template-ids:-967020886 67698689 67698691 67698693 67698689 67698691 67698693 67698689 67698691 67698693;} @list l0:level1 {mso-level-number-format:bullet; mso-level-text:; mso-level-tab-stop:none; mso-level-number-position:left; text-indent:-.25in; font-family:Symbol;} @list l0:level2 {mso-level-number-format:bullet; mso-level-text:o; mso-level-tab-stop:none; mso-level-number-position:left; text-indent:-.25in; font-family:"Courier New";} @list l0:level3 {mso-level-number-format:bullet; mso-level-text:; mso-level-tab-stop:none; mso-level-number-position:left; text-indent:-.25in; font-family:Wingdings;} @list l0:level4 {mso-level-number-format:bullet; mso-level-text:; mso-level-tab-stop:none; mso-level-number-position:left; text-indent:-.25in; font-family:Symbol;} @list l0:level5 {mso-level-number-format:bullet; mso-level-text:o; mso-level-tab-stop:none; mso-level-number-position:left; text-indent:-.25in; font-family:"Courier New";} @list l0:level6 {mso-level-number-format:bullet; mso-level-text:; mso-level-tab-stop:none; mso-level-number-position:left; text-indent:-.25in; font-family:Wingdings;} @list l0:level7 {mso-level-number-format:bullet; mso-level-text:; mso-level-tab-stop:none; mso-level-number-position:left; text-indent:-.25in; font-family:Symbol;} @list l0:level8 {mso-level-number-format:bullet; mso-level-text:o; mso-level-tab-stop:none; mso-level-number-position:left; text-indent:-.25in; font-family:"Courier New";} @list l0:level9 {mso-level-number-format:bullet; mso-level-text:; mso-level-tab-stop:none; mso-level-number-position:left; text-indent:-.25in; font-family:Wingdings;} ol {margin-bottom:0in;} ul {margin-bottom:0in;} -->
Youth Social Programs: Young people with disabilities (PWDs) feel socially excluded, they are hidden and kept indoors by their parents and families. The parents of young PWDs do not want other people to see that they have children with disabilities, so they tend to keep them inside their homes denying them proper education and social interactions. This was revealed during the focus group discussion with young PWDs in rural areas. The focus group in the rural community was said to be the first event to bring PWDs in the community together and meet each other.  
To this Darsfoundation in collaboration with Youlanda Foundation has started to initiate programs for the PWDs in Pakro community by taking them off the streets and supporting them with employable skills in agribusinesses. PWDs are supported to engage in mushroom, snails and papaya farming to generate incomes and jobs among people with disabilities.
Darsfoundation Ghana and Youlanda Foundation (Youfound) Ghana are providing pro poor intervention solution for the poor in rural communities of Volta, Eastern, Central and Greater Accra regions. Some intervention for the alleviation of chronic poverty are in-
·         Child support to professional pre-tertiary education
·         Long term supports in Agribusinesses
·         Rural business loans to members
·         Donations of free viable fruits, vegetables, tree seeds to farmers.
Darsfoundation was ready to support the youths and women groups to develop their own businesses. Beneficiaries of the loans would pay the principal loans and interest component depending on the type of projects they want to venture into, this is to address youths and women unemployment situations as key part for transformation.
On regular basis rural members are giving financial education to stump out chronic poverty and build capital for future businesses and for family upliftment. Darsfoundation and Youlanda Foundation Ghana's program is focused on providing new opportunities, including training and skills development for the youths and women in agribusinesses, business development for SMEs and protection of the most vulnerable groups. It would also help to address the root causes of illegal migration of rural urban movement of the women and the youths. One of the biggest challenges we are facing today is with rural urban migration especially of the young women and the youths. 
Interaction with the Youths: Young people say they are rarely earning a salary. Youths both young men and women between 16- 24 years in the rural communities says that most of the work they did was unpaid for. The range from working on others people's farms and carrying farm produce from farms to markets as well as helping their guardians in their economic ventures such as petty trading and food crop cultivation among others. Of the eleven young people interviewed they received between Ghc20 – 50 as token from their employers mostly relatives for their services.

continue reading
Contact
House No. 108, Lane 16,
Accra
Ghana


K. Darkudzi
New message
Visit our website