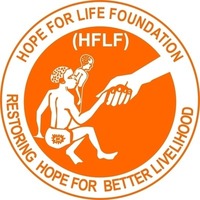 "HOPE FOR LIFE FOUNDATION"
managed by Z. PETER
About us
Hope for life foundation (HLF) is a non-profit making and independent organization founded in February 2009. Hope for life is dedicated to contribute to the eradication of poverty amongst women and youths in and out of school through various income generating projects, vocational training skills, , sensitization about HIV/AIDS, STIs and other reproductive health issues, establishing foster homes and talent development programs. Currently HLF is working with national and regional organizations with openness to other collaborations both locally and internationally. HFL works to identify, strengthen and expand existing programs that have proven effective in meeting vulnerable children, youths and women needs. We also support vulnerable children through sponsorship in education and providing scholastic materials and also advocate for the rights of children and women in the community.
Location and operation areas:
Hope for Life is currently covering in three (3) district of Uganda namely:- Kampala district with the coordinating offices, Luwero and Kamuli district with the regional offices and operational grounds.
Vision.
"Restoring hope for sustainable livelihood"
Mission:
To transform lives of children, youth aged 7 – 30 years and women in communities through information dissemination, support and protection of their rights.
Core Values
i. Compassionate
ii. Trust worthy
iii. Ultimate care
iv. Changing communities
v. Partnership
vi. Equal rights, opportunities and shared responsibilities for all.
vii. Inspired by our vision.
viii. Integrity.

PHILOSOPHY
"Not only great people that do great things but simple people with great hearts"
Objectives
The organization objectives are;
1) To strengthen the role of community in providing effective care, support and information on social, health and economic aspects on children, youth and women.
2) To advocate for the rights and improvement on the status of the vulnerable children, youth and women.
3) To improve the sexual and reproductive health of the young people aged 7 to 30 through sensitization HIV/AIDS, STIs and reproductive health related issues.
4) To promote and support sustainable formal and informal education, vocational, talent and life skills development for the vulnerable children, youth and women.
5) To promote safe lifestyle and avoidance of risk behaviors among the youth through prison visiting.
6) To improve on the welfare of under privileged people by building orphanages, homes for the disabled and the aged as well as Helping Centers for widows and street children;
7) To work with other NGOs, CBOs, local governments and central governments to bring about an environment conducive to the development of the children youth and women.

Hope for Life is currently supported by individuals donors and well wishers who have done the best to see our objectives fulfilled for the past years of our operation.