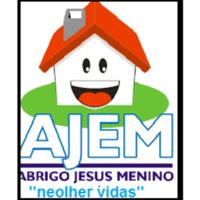 AJEM - Abrigo Jesus Menino
managed by F. Lindner
About us
Shelter Jesus Boy (AJEM) is a non - governmental organization (NGO) which was funded on 17 June 1967 in Pernambuco (Brazil).
The aim of this Organisazion it is to meet existing demand of children in relation to risk from neglect, violence and violation of their rights to justice.
During the time the children's are being adopted, the host institution provides them with the basic services such as security, sanitation, nutrition, education, health and affection. They also provides psychosocial support to families of origin, providing the preservation of family ties and favors a possible resumption.
The main activity of AJEM is to enable social services and educational and psychological assistance to children for reintegration into normal life.
To allow subsequent reintegration into family life, also support of families plays an important role.
AJEM consists of a group of volunteers who care for children around the clock: A social worker, a teacher, and two trainees in the fields of education. To enable professional assistance for the children several professionals from different sectors (including a psychologist, a doctor and several nurses) dispose there time as voluntary service.
Contact
Rua Esperança nº 376, Barro
50720-510
Recife
Brazil


F. Lindner
New message
Visit our website