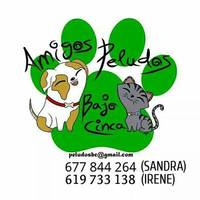 Amigos Peludos Bajo Cinca
managed by Sandra O.
About us
Amigos Peludos Bajo Cinca is an animal shelter in Spain. We rescue animals from the street and dog pouds. We give them a second chance. We take care of them until we find a good family for them.

We started in july 2014 with only 10 dogs. Nowadays we have about 80 dogs of different ages an sizes. Some of them are sick and need expensive treatmets.

Everyday we post on Facebook everything we do and every adoption. We would like to be known further to give more dogs in adoption. We really would like to give a family for all of our dogs.