Children, Play and Education - EJE
managed by J. NENO
About us
In the current Middle East regional non-stop geopolitical crises, Palestinian children live under sever psychosocial pressure that impact children development and growth. In these circumstances, if basic children rights and needs are not respected, all kinds of traumas will hit them; their sequels will travel with them to their future…

Here is our youtube channel:
https://www.youtube.com/user/EJEBethleem?feature=watch

and here are our picassa albums:
https://picasaweb.google.com/117022434452048233787?gsessionid=NKE-kzv5rbQRXoOEQSEFMA

EJE' goal is to contribute to the improvement of the psychosocial well-being and educational environment of the most vulnerable Palestinian children within the Palestinian Territories.


EJE is currently undertaking and implementing actions as part of three specific objectives necessary in order the reach the previously mentioned goal:


Objective 1 To facilitate the communication between childhood professionals and to promote experience exchange and capitalization
Through an annual meeting, and thus helping to develop a network in the sector of non-formal education and psychosocial support.

Objective 2 To support and develop in the West Bank and in Gaza socio-educational projects for children and teenagers within the youth centers
Through psychosocial and educational support activities, professional trainings given to local staff and support to local Palestinian partners

Objective 3 To develop networked activities around children rights
Through awareness-raising meetings, exchanges and meetings between families, teachers, childhood professionals and local actors as well as children from different communities.
Latest project news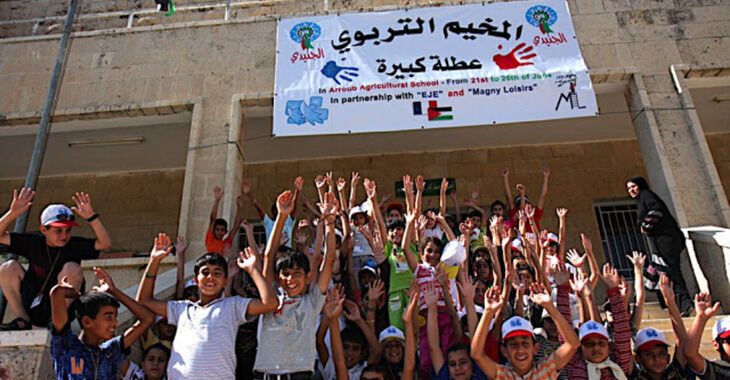 Donations that cannot be used for the project
Dear donors,
when managers of a project haven't requested a payout over the course of a longer period, the German law and our terms of use provide that we (gut.org gemeinnützige AG, operator of betterplace.org) use the money for our tax-deductible purposes. The same applies to the cancellation of a project, where the manager of the project is unable to realize it.
Therefore we will use these donations for the following purposes:
https://www.betterplace.org/c/help/when-donations-cannot-be-spent-for-the-project/
Thanks for your support,
the betterplace.org-team
continue reading