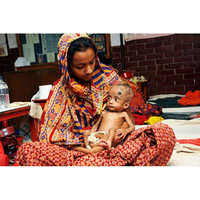 STABLE AID FOR GLOBAL STARVING CHILDREN
managed by R. Adelbert
About us
Have you ever wanted to do something more? To really make a difference in the life of someone else in need? The STABLE Meal Pack is a meal replacement humanitarian product that provides the first step out of starvation for those in need. A water-soluble formula that delivers all the critical nutrients in a way that malnourished bodies can best absorb and utilize. It helps to strengthen those who cannot properly digest solid food due to a long period of poverty or famine. Each meal pack purchased provides around 40 meals helping save lives and make a difference. A child dies every 6 seconds under the age of 5 in the world due to starvation. That's a big problem wouldn't you agree?Help us in a quest to feed starving children with the STABLE Meal Packs. Ask how you can be part of this vision and make a difference in the life of a child.




STABLE is a non-profit organization aiming at providing more immediate response to medical supplies and humanitarian aid to at least 20 countries in response to natural disasters, civil conflicts and ongoing health crises in impoverished areas.



At the end of the year we can all expect to get presents, a huge meal and a lot of love. Let's pay it forward this year by helping children that aren't as blessed! We have made it a mission to help feed 20,000 starving children and mothers around the world. It sounds like a hefty goal but with the help of kind hearted individuals, the STABLE Aid, this goal can become a reality! Let's breakdown the numbers:

€120.00 = 40 Meals
€96,000 = 32,000 Meals
€96,000/96 People = €1000 per person
€1,080/3 Months = €360 which would allow every person to feed 120 people every month.
120 Meals X 3 Months =360 Meals
360 Meals X 96 People = 34,560 Meals by the end of the year!