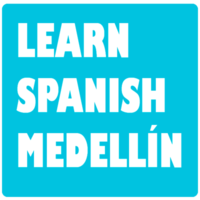 Learn Spanish Medellin
managed by M. Palacio
About us
Medellin is becoming a very interesting city because of the civic, educational and transportation projects developed in the last 20 years to transform the city after a long period of drug-related violence. Every day, more people are coming to witness this transformation. As a pleasant surprise, they also find very warm and welcoming people in Medellín.
Our company Learn Spanish Medellín, promotes cultural exchange between people from all over the world who want to learn Spanish and Colombians from poor areas
interested in learning English. These Colombians want to know more about the world, have more future opportunities and improve their lives and the development of their communities.

We need a steady stream of volunteers who are interested in visiting the at risk communities. Our volunteers spent time with the community while practicing their Spanish. Most importantly, your volunteer work in these Medellín communities gives people who live there an opportunity to learn conversational English and to get to know people from different cultures who have new ideas and that can be an inspiration for them and grow creatively.
We are sure that meaningful changes in Latin American countries will come from local communities and their talented people. We want to help them to believe in their ability to develop their own projects and to pursue their dreams.
The english classes:
Currently we have 2 groups with 10 students each from the community. We need volunteers to teach classes every week:
Group 1: 2 classes weekly (9:00-11:00 a.m), Tuesdays and Thursdays
Group 2: 2 classes weekly (2:30-4:30 p.m), Wednesdays and Fridays

We are looking for people to help us teach Group 1. Availability required per week: 4 hours teaching, 2 hours preparing class.
There is always a Colombian volunteer in the class, and the area is safe and beautiful. We don't cover transportation expenses or food, but there is no fee to volunteer in this program.

In the future we will open groups for kids and begin offering more activities; Your ideas for our projects are always welcome!