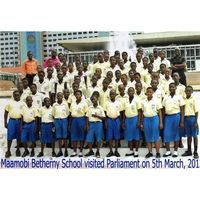 International Union of Parents and Teachers
managed by N. Kanfiegue
About us
(IUPTA) is a national section of the international non-governmental human rights organization, established in 2005 and registered in 20th August 2009 in Ghana at Registrar General GR Department of Ministry of Local Government in accordance with the Ghanaian NGO Law as an independent Ghanaian non-governmental organization. Its registration number is G-29-246
Latest project news
Bunkpurugu conflict
The Chief of Kpikpira, a Bimoba community in the Tempane District of the Upper East Region, Naba Dazuuri II, has appealed to the Paramount Chief of Bunkpurugu, Naa Alhaji Abuba Nasinmong, and the other gates involved in the long-standing chieftaincy dispute there, to use dialogue to amicably revolve the current situation in Bunkpurugu.
According to him, the brothers of Bunkpurugu cannot continue to shed blood whiles the area remains under-developed, adding that stakeholders must put all hands on deck to resolve the dispute.
Naba Dazuuri II was speaking at this year's Danjuar festival celebrated by Bimobas in Kpikpira, under the theme: 'Building Peace and Unity Through The Celebration of Danjuar in Bimoba Land', which was attended by traditional leaders and chiefs from neighboring Togo.
The Chief of Kpikpira expressed worry about the disunity and violence in Bimoba land, adding that recent clashes over a prolonged chieftaincy dispute which led to the loss of lives and property was unfortunate.
He however admonished the parties involved in the Bunkpurugu chieftaincy dispute to consider smoking the peace-pipe in order to transform the area.
"I feel increasingly sad about the disunity and violence in some parts of Bimoba land. Bimobas are setting precedence that no tribe on earth will be proud of, brothers at war in Bunkpurugu over chieftaincy. They slaughter each other every day to show their prowess, and the dead buried by strangers. Let me call on those brothers at war in Bunkpurugu to consider peace as the only way out. The gun cannot solve the problem except genuine talks. It is time for the two brothers to smoke the peace-pipe to bring lasting peace and harmony to Bunkpurugu."
"I call on my big brother Bunkpurugu Chief to do everything humanly possible to let peace prevail. I know how it hurts to be disregarded as a Chief; for the sake of a peaceful home, give dialogue a trial," Naba Danzuuri added.
Naba Danzuuri further called on the national house of chiefs to urgently work with the Northern regional house of chiefs to play their part in calming tensions in Bunkpurugu assuring that all Bimobas will stand by any decision they take.
Naba Danzuuri concluded by appealing to the youth of Bunkpurugu not to be influenced by politicians or traditional leaders in the area to perpetrate crimes that will have dire consequences on their land.
continue reading
Contact
Post Office road
Nankpanduri
Ghana


N. Kanfiegue
New message
Visit our website