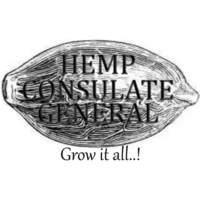 Hemp Consulate General
managed by Mark M.
About us
As a NON_PROFIT ORGANIZATION: The Hemp Consulate General and it's various
efforts benefit from the donations of our supporters.At this point there is only myself (Marc Mollan) and I have donated everything to date such as the physical space and the funds for the online space and it's creation and maintenance ,the seeds and their shipping costs,etc.Anyone who recognizes and wishes to emulate the plants utility is welcomed to support in any way they can. Our shared desire to establish a recognized and respected foundation
representing the intelligence of the hemp plant beyond speculation of
profit shall be achieved through diligent activism taking many forms.
The funds will be used to establish the infrastructure of The Hemp
Consulate, from the online presence of our website to the construction
of a physical location complete with transportation for housing and
moving projects (including activism and diplomacy) forward.
The consulate seeks some sort of official recognition of its
non-profit status eventually but beyond it's establishment by me, at
this point, it exists as a private organization and there are as of now
no substantial funds to account for. When and if that should happen then transparency will be the guiding principal in handling the collective value of the agency. So please help with any constructive support that you can offer and in the spirit of the generous and benevolent hemp plant we express our gratitude.