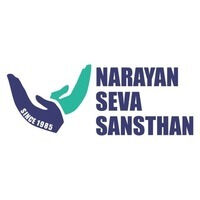 Narayan seva sansthan U.K.
managed by Prashant Agarwal
About us
Narayan Seva Sansthan is an NGO established in 1985 by Dr. Kailash Agrawal 'Manav' to treat patients suffering from polio, cerebral palsy and serve the orthopedically handicapped and disabled. Our aim is to provide education and vocational training to the disabled and mentally retarded people with proper facilities to develop their potential to the fullest so that they can be self-reliant and independent.

Our charitable organization works closely with hospitals, rehabilitation facilities, mentally retarded children, handicapped and individuals.
Our programs it is made possible through donations and contributions as received from various corporations, organizations and individuals. With the increase in support, we will continue to extend our efforts and provide services to improve the quality of life of physically challenged individuals. Poor, needy and physically challenged persons are being operated "free of cost" at "Narayan Sewa Sansthan". Thereafter, they are imparted with vocational training, so as to enable them to earn their livelihood on their own. These services are provided by highly experienced and motivated professionals and volunteers. Your "Goodself" may play a vital role through your donations so that these physically challenged persons could be operated immediately. Your contribution can bring in a lot of difference in the life of many physically challenged and mentally retarded children. It is possible to touch the heart of millions by way of our charity Organization. You will find experience joy when you donate whatever you can, as per your wish.
Contact
12 melton road
LE4 5EA
Leicester
UK


Prashant Agarwal
New message
Visit our website