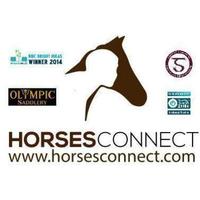 Horses Connect Enterprises Ltd
managed by E. Bennett
About us
Horses Connect Enterprise Ltd is a social firm based in Galway in the West of Ireland. Our aim is to help people of all ages experiencing a range of challenges to recognize their true value and reach their full potential through interaction with horses and ponies.
We are committed to best-practice equine care and to ensuring that every horse and pony on our team is treated with the utmost dignity and respect at all times. We source our equine partners through rescue centers because we believe that a bad start, a difficult life or challenging experiences do not exclude any animal (or person) from the ability to make a meaningful and positive contribution to the life of another. The fact that our horses and ponies have known pain, fear, loneliness, abandonment, abuse or hunger helps many of our clients to relate, to form a bond and to learn essential life skills from interacting with them.
The people who benefit from interaction with horses include (but is not confined to) children, teens and adults with disabilities or debilitating illnesses, youth at risk (e.g. early school leavers and those experiencing disadvantage), the unemployed, people with mental health issues, the elderly and people with acquired brain injury.
Horses and ponies connect people with education, employment, empowerment, inclusion, integration, which leads to improved, social skills, physical fitness and ability, emotional well-being, self-worth and personal potential.
Horses and ponies offer a unique advantage over other animal-assisted therapies because we can sit astride them. The movement of the horses's pelvis mimics the human walk and exercises muscles that the rider may be unable to move voluntarily. A walking horse transfers 110 multidensional movements per minute to the rider's body, increasing core strength and stability, balance, co-ordination and spatial awareness. The warmth and rhythmic movement of the horse relaxes and gently stretches tight muscles and joints.
Horses connect people with physical activity, which increases seratonin levels, lifts the mood and fosters a sense of well-being. The current epidemic of obesity, especially among children, has been well documented.
Horses connect people with nature and help rebalance what author Richard Louv has identified as 'Nature Deficit Disorder'. Louv writes about a growing body of evidence indicating that a connection to the natural world boosts mental acuity and creativity; promotes health and wellness; creates smarter, more sustainable businesses, communities and economies, and strengthens human bonds.
Most importantly, horses connect people with other people. Recent research from Trinity College Dublin (October 2014) reports that 7% of people over 65 are chronically lonely. Aware reports that 10% of Irish people have experienced depression. Mental health is an issue in every community and Moycullen has known more than its fair share of suicides in recent times.

The big vision of the Horses Connect Enterprises team is to build a state-of-the-art, community integrated equine facilitated therapy and training centre in the Moycullen area. There is potential for Moycullen to set international standards and to become the leading example of an integrated community project.
This centre would provide equestrian-based therapies and activities as well as other resourcessuch as (for example) a sensory trail, horticulture and basic self care skills. This facility would fully match Horses Connect Enterprises' ethos of Empowerment, Education, Employment, Integration and Inclusion. It would serve the people of Moycullen and beyond through engagement with the community and voluntary sector, as well as with public and private sector organisations, via a number of innovative initiatives and endeavors.
A training center in the Moycullen area would not only provide much needed services and therapies to people with disabilities and/or experiencing disadvantage or debilitation, but it would also provide opportunities for employment and volunteering. It would be a hub for encouraging all members of the community, of all ages and circumstances, to become involved in something of great value.
Horses Connect Enterprises wants to facilitate the provision of an inclusive Community Resource Centre for the people of Galway and Connemara, based in the Moycullen area, through which individuals of all ages, and community groups will have access to equine facilitated training and therapies, meeting spaces, advice, health and well-being services, information and guidance, and educational, employment, social and leisure opportunities.


As a Social Firm, Horses Connect Enterprises will offer a broad range of employment opportunities, training opportunities and volunteering opportunities for all members of the local community. In particular Horses Connect Enterprises will actively look to work with the most marginalised members of the community including those with a disability.
This facility will impact on the local community by offering employment – especially to people who are unable to gain mainstream employment - and also by providing training opportunities that will deliver transferable work based skills.
Horses Connect Enterprises will also provide volunteering opportunities to encourage full participation, and a sense of ownership and pride, from the local community in a business that is making a positive impact on the lives of the most vulnerable.
Social Aims and Objectives
To promote inclusion in all our activities
To empower young people and people with disabilities or disadvantage to gain meaningful
employment
To enable people with disabilities and those from marginalised backgrounds to access accredited training and work experience.
To improve the chances of marginalised people achieving their career goals
To increase the number of people with intellectual disabilities who complete accredited training
To offer meaningful choice of training and employment to people from disadvantaged backgrounds in Moycullen and the surrounding areas.
To promote physical activity and community spirit by providing people of all ages and abilities with opportunities to volunteer and share their wisdom, skills and knowledge
To provide training for volunteers wishing to be involved in Therapeutic Riding sessions
Petty crime, underage drinking and the use of drugs is becoming an increasing problem in rural communities. The lack of a consistent and reliable local Garda presence is contributing to this fact. A facility like the centre proposed by Horses Connect Enterprises would provide a focal point to encourage marginalised sectors of our society, including those at risk of turning to petty crime, to become involved in something constructive, rather than destructive, promote a sense of ownership and pride and provide a significant social return on investment.

None of these goals can be attained with the invaluable contribution of our equine partners. Every day, they phsically or otherwise carry the most vulnerable members of our society and help in ways we may never be fully be able to comprehend or measure. A carefully managed workload, regular health checks, optimal feeding and routine care, and time off to 'be a horse' are essential to ensure that our horses and ponies can continue to work their magic.
The ongoing financial cost of keeping a Therapy Horse or Pony is higher than that equine can earn while maintaining a good quality of life. For this reason, Horses Connect Enterprises Ltd must fund raise to ensure that our horses and ponies are there when we need them.