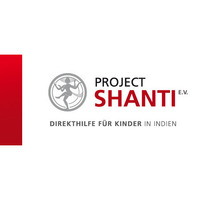 Project SHANTI e.V.
managed by Shanti N.
About us
On my journey "back to the roots" in spring 2014, I have met many people in India who have shaped my destiny through their help. I know of Terre des Hommes projects the opportunity to participate in an institution for children. These experiences have deeply moved me and led the club to found Project SHANTI eV. We are a non-profit organization, the needy children / young people / women in India supported.

Together with local partners, we are planning our first project:

To allow the construction of a transit home for temporarily holding the needy for protection, livelihood and education. We want to sustainably promote and support the development of children and families. In order to help people to help themselves, we ask for your support. Every donation brings us closer to our goal.

What does Project SHANTI e.V.?

- All members are purely voluntary basis, and every donation is passed one to one

- We will keep you up to date on the progress of the project

- Tax-deductible donation receipt for the donation (private and commercial)

- Provide active assistance to a personal relationship with the project and knowledge

I would be delighted to welcome you as a member or if you retold it.
On request I will send our flyer, the declaration of accession and details to our project.
Become a part of Project SHANTI - BE PART OF IT

More information can be found on our website www.project-shanti.de .

Warm regards
Shanti
Contact
Heideweg 3
56410
Montabaur
Germany


Shanti N.
New message
Visit our website