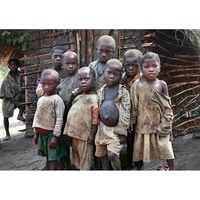 hope ministries international
managed by b. orphans
About us
Background to Hope ministries and the batwa


The Batwa were traditionally hunter/gatherers for thousands of years and supported themselves and their families by living in the Bwindi Impenetrable Forest. They were displaced when it was gazzetted as Bwindi Impenetrable National Park was created to protect the endangered Mountain Gorillas.
The Batwa are a 'hard-to-reach population, who live in temporary settlements outside the forest and often have to walk long distances and make difficult journeys to reach the Health Centre for health services. Batwa children are the most disadvantaged by the circumstances of discrimination, poverty and exclusion which separates them further from the rest of the society they live with. People in the community and country hold negative stereotypes about the Batwa and they often experience prejudice by some of the non-Batwa community members, (Lewis 2000). The Batwa are among the people who have the least access to health care services, and yet they are the most needy of them.
The Batwa have the highest child death rates in Uganda. More than half of the children of landless Batwa die before the age of five and are killed by preventable and treatable diseases. Such diseases include malaria, dysentery, diarrhea, HIV/AIDS, pneumonia, Acute Respiratory Infections (ARI). Malnutrition, a disease of poverty, has claimed most of the Batwa lives. (Adults fare only slightly better). Many Batwa women don't access maternity services, and other preventable diseases like TB continue to undermine the Batwa population in general.

Hope ministries international , plans to build a batwa community clinic to take off with health interventions that may alleviate the health burdens of the Batwa. The clinic will not charge Batwa for treatment or services. Food will be supplied to admitted Batwa patients, and the clinic administration shall provide any further required support to enable them access referral services.
For a people to survive and flourish, access to education is exceedingly important. Most importantly, the Batwa need to learn how to read and write. Adult literacy should be encouraged because the majority of adult Batwa do not know how to read and write. Without improving the Batwa's literacy rate, it will remain difficult for them to conceive the importance of better health and self development.

The Batwa children have performed well when they are given access to educational opportunities. Our orphanage primary school has been a center of excellence providing quality education to the Batwa orphans and vulnerable children .
It is envisioned that all Batwa children will be given an opportunity to acquire an education. It is obvious that each child would be evaluated on their merits for the type of school most appropriate; private boarding schools or perhaps, vocational education. The ministry would take a leadership role in assessing the appropriate educational environment for the Batwa children. Vocational programs will be initiated with carpentry, masonry and knitting being the most popular activities.

Presently, many Batwa do not have access to a proper home. Many still live in structures constructed of leaves and thatch with earthen floors.
Secondly, Batwa are living in settlements on land that was specifically allocated to them and The Batwa population is growing and in a short time the land will be too small to accommodate them.
Acquisition of land appropriate for homes, gardens and animal husbandry is essential. Also effective land utilization with the use of organic manure.It is hoped that a Batwa home complete with tin sheet roof, pit latrine and kitchen would be constructed, at least one per month and every Batwa have 1-2 acres of land per family.

Resource mobilization and income generation are very essential for the ministry /charity to be a reality to the Batwa community. In order to provide a sustainable income to the Batwa community a number of projects shall be set up so they can become valued and law abiding members of society. Four main project areas are: the Batwa cultural preservation centre, a Batwa "Crafts Banda", goat rearing, and vegetable growing.