Destiny Community Centre
managed by P. Kaunda
About us
DESTINY COMMUNITY CENTRE
PLOT 75 NTARA CRESCENT, OFF MZILIKAZI RD, INDUSTRIAL AREA, MATERO, LUSAKA, ZAMBIA.
PHONE: +260 974 097 471.
EMAIL: peterkaunda2002@yahoo.com

1. LEADERSHIP
Destiny community Centre is run by a board of six members coming from different professional backgrounds. The Day to day activities is managed by a functional management. However, our Key leader is a clergyman with a diploma in theology, diploma in project management, advanced diploma in Electrical and electronics, Diploma in Electronic and Certificates in Biblical Counseling.
The compelling story was that our community called Matero was the most hit community by the HIV/AIDS pandemic in the all of Zambia. Mainly this was attributed to social/economical hardships that caused high poverty levels making our people get invloved into all kinds of negative behaviors. 33% of our people were infected and were dying at a very alarming rate. By this time, there were no ARVS interventions by the government till late 2004.
Our leader being a clergyman spent much time on conducting funerals. This left most of the children orphaned and vulnerable. And so Destiny was started as a quick community response to the suffering of the so many orphaned children. A way was to be found to give these children a future. We couldn't sit and watch death devastate children's destinies and so something was to be started. Initially the founders would go into the community from door to door, identify needy children, find school place for them in the government schools and then pay for their school requisites.
By 2001, about 150 children were enrolled into these public schools and sponsored by the founders of Destiny. However, public schools reached a saluted point where they couldn't take in any more these children. It was at this point Destiny was born with 30 children and 2 volunteer teachers learning in an old abandoned and vandalized former City Council beer hall. Today Destiny Community Centre is the hope of so many children.
Our leader has a vision to replicate a network of Destiny Centers across the nation especially in the remote, rural and shunt compounds of Zambia. We firmly believe that Education is a strong foundation for ending poverty and a means to accelerate national development. The Founder is still the leader of Destiny Community Centers. From the inception, Destiny has never lagged behind in its quest to uplift the lives of the marginalized communities. Our Leader is recognized by many embassies working in Zambia because of his networking ability and the desire to partner with many organizations for the sake of helping the children get their education.

2. COMMUNITY-BASED, COMMUNITY-INITIATED AND COMMUNITY DRIVEN
Destiny Community Centre as its name implies is community based, Community Initiated and community driven. It has its legal status as a community based initiative. Destiny Community Centre is registered with registrar of societies and its registration number is ORS/102/35/3660 and also registered with the Ministry Of education, science, vocational training and early education. The registration number for ministry of education is EMIS 3030215.
The ministry of education provides policy guidelines on education provision and also provides the curriculum for our schools. Standard officers are sent regularly to evaluate and monitor the standard of education that we are providing. Our partnership with the education regulatory bodies is sound and solid.
Destiny has a Parent Community School Association which runs yearly. This PCSA consist of the chairperson, vice chairperson, secretary, vice secretary, the treasurer and two committee members. The community chooses the PSCA through a vote. The PCSA is directly involved in raising funds for the running of the school and also maintenance for the Destiny infrastructures. The community is directly involved in preparing daily meals for the children. This all shows how Destiny is community based, community initiated and community driven. The Board, School Management and PSCA are all local people involved and so it is a local institution. Destiny serves to provide the most needed education to our community. All our teachers and members of staff are paid by the community through monthly financial contributions.

3. NUMBER OF CHILDREN/YOUTH BENEFITING FROM YOUR PROGRAM

Currently we have two schools in Lusaka and Chingola 600km from Lusaka. The total enrolments for both school is about 800 kids. Lusaka has about 400 children and the other 400 in Chingola. We also had one rural school which had 200 enrolments but due to sustainable challenges, we halted it for some time.
Our centers provide basics tailoring skills to women and school dropout girls. An average of 10 women and girls are trained yearly. We also provide forums where young people meet to discuss issues that affect them.
4. AGE RANGE
Destiny Provides education from Pre-school to grade nine at the moment and so the ages ranges from 4 to 18 years of age. For youth forums we engage ages from 12 to 25. The Japanese Oversees international cooperation agency provided us with three volunteers over the period of six years to develop a youth program at our centre. This helped to mobilize and sensitive our young people on the dangers of drugs, alcohol and illicit sex. Destiny takes up on mult-sectorial approach to serve our community.



5. NUMBER OF MALES AND FEMALES
We have 60% of our enrolment girls and 40% boys. So the actual figures for girls in both schools would be 480 and 320 boys. We maintain these enrolments to have a good teacher/pupil ratio. This helps us to provide quality teacher/ pupil interaction to improve children's school performance.
6. ISSUE OF VULNERABILITY ASSOCIATED WITH THE POPULATION WE ARE SERVING
Destiny Community Centre serves in poor communities of populations of about 200,000 people in Kapisha and 300,000 in Matero respectively. A small percentage of people in these communities work and earn a decent wage. A lot of our people depend on small business along the community streets and have no reliable source of income. Alcoholism and elicit sex has had a ravaging effect on our communities. As up to 2002, Matero had 33% HIV/AIDS infection rate and there was a great population drop between 1993 and 2003. Most of our people were infected and dying of the HIV/AIDS.
Due to increasing death of people as a result of HIV/AIDS and social economical hardships, so many children have been left as orphans or vulnerable with no body to take care of them and giving them support. Most of the children are left with their poor grandparents and some are left homeless hence ending up on streets. Other children still have both parents but they are sickly and unable to provide for their families. It is against this background that the majority of children are denied the basic human right of education.
The child-headed household trend in Zambia especially in rural and poor urban setting such as Matero communities is an ever growing trend. Most children are left vulnerable to poverty, adversity and HIV/AIDS. A number of children are turning to the streets and become beggars or thieves. This rise in the proportion of child-headed households and child laborers means a rise in percentages of the illiterate, early pregnancies, and related consequences such as increased incidence of those who are infected by sexually transmitted diseases (STDs) and HIV/AIDS, and drug abuse. The cycle of child poverty will thus be passed on to next generation and become chronic. So education interventions are much needed.
The magnitude and complexity of the problem of child poverty in Zambia is large and growing, and cannot be ignored when designing grassroots development and poverty reduction strategies. Unfortunately, children and young people continue to be marginalized in spite of interventions, especially where assumptions are made that interventions that address adult and household needs are also good for all children, including boys and girls of school-going and non-school-going ages.
Hence the formation of Destiny Community Centre.
7. BUDGET
- INCOME
Our income comes from the community monthly contributions and tailoring product sales. This totals to $1800 to $2000 monthly.

8. MAJOR SOURCES OF FUNDS - NAME OF ORGANIZATION AND THE COUNTRY THEY ARE BASED IN
At the moment Destiny Community Centre has no any external source of funding. Its entire operating budget is gotten from the community contribution and other well-wishers. This community contribution comes in terms of monthly user fee contribution. It is very unreliable as it comes from the very economically disadvantaged community we are serving.
However, we have started opening our schools for child sponsorship. Anyone or any organization may sponsor any number of children. So far, we have 120 children sponsored by Arise Africa paying $9 per month per child. This still a drop in the ocean as our monthly operating budget is increasing to $2600 due to inflation.
In the past, Destiny has received grants from the Japanese embassy to build five classroom blocks in Lusaka and Chingola. The total sum of $64,214 and $112, 000 were given for respective centers. We have received $600 from the American Embassy to purchase educational resources and we also receive $3000 from global horizons for school infrastructure maintenance. We also had recent construction of five classroom block for Destiny community centre in Lusaka. Destiny also received a grant from Wood spring Church in the UK to purchase desks or furniture for the school in 2010.

9. INNOVATION

Destiny Community Centre is planning to start an ambitious medium term program of upgrading its education provision to go up to grade 12. Most of the community driven schools in Zambia deals only with primary education. The need to go up to grade 12 is an initiative that will go beyond providing basic education. We would like to provide a sustainable base where children's future will be built. We intend to have a modern science and computer laboratories and also a home economics class.
Our intentions are to marry academic qualification with survival skills. The children graduating from Destiny will have something to fall back on in case they cannot pursue their studies further. Finishing secondary to roam on the streets is counterproductive and so Destiny will Endeavour not only to grow the minds of the children but to also train their hands and hearts to easily find something to live on.

10. TEAM

Destiny has a great team of six board members who come from different social and professional backgrounds. The executive director is a clergyman. The board has one mining expert, an electrician, a mechanical fitter, one teacher and a trustee with a certificate in business administration.
The Destiny staff totals to 30 full time staff for two schools. There are 22 members of staff in Lusaka and 8 on the Copperbelt. We have one staff with bachelor's degree in education, four with diplomas in education and three with certificates in education. The rest of the staff ranges from having no certificate to those with grade 12 certificates.

11. EFFECTIVE PROGRAMMING
Destiny Community Center was established with three objectives. These are:
- To provide education to the most disadvantaged children in our communities. This education should be without barriers and should be able to make a child stand on their own in the future. So our education should be tailored to include the components of skills training.
- To provide skills training to the most disadvantaged members of our community.
- To create forums where young people will be engaged to discuss issues that affect them such as Drugs, Alcohol, Sex, Career and youth unemployment.
Of these three objectives, education is our core objective. We have made strides in all the three areas. However, in education we are providing education from pre-school to grade nine without discrimination. Destiny Community Centre each end of the year goes into the community to identify children who are suppose to be in school and for some reason are not. These children are enrolled and given school places.
Destiny makes school uniforms for the children in school including soliciting for shoes from local organizations. Each child is then supplied with all the school supplies to enable them to learn without education requirement needs. Our centers have also provided employment to over 30 teachers and support staff that ensures that the children are given a decent education. We also provide counseling to children that have been abused or defiled. Our aim in this is to restore the self worth and a positive self image. It is good to see children smile again.
Each lunch, all the children are given a good balanced diet meal. Those children whose living environment is not conducive are recommended to the social welfare which helps them with homes where they can stay. One of the homes is run by Arise Africa. We are involved in giving a holistic education to these children.
We also offer mandatory physical education and school clubs. In these clubs, children are exposed to their culture and history. Every Thursday, children go for sports to ensure that their bodies and minds are developing well.
Destiny offers basic tailoring training to those children who are not very good in the academics. Once they drop off and do not show interest in education, we advise them to enroll into tailoring. Our plans are to acquire a computer laboratory where computer skills would be taught to these kids.
In both our community centers, we work in the very densely populated and poor communities. We have incorporated an HIV/AIDS education in all the grades so that children are aware and protected.
Once in a school term, we let our children volunteer their service into the community serving the more vulnerable people within our community. This is an eye opener to most children to realize that there are so many people suffering out there who needs help. Our aim is to produce children who will be able to serve others.
Our education programs runs for three months and allow the children to go on vacation for a month. So we have three school terms per year. January through March May through July and September through November. National examinations are taken in the third term of each year between October and November.
Our school timetable is Monday through Friday from 0730 to 1600 hours. Children are kept the full day at the school so as to help them revise schools work that was done in the mornings. An end of term assessment is done each end of the term and the results are given on each closing day.

12. MONTH AND YEAR DESTINY STARTED OPERATION
Destiny Community Centre started operating officially in December 2003 in an old abandoned City Council Beer drinking wall. Destiny started with 30 children and two volunteer teachers. Ever since, Destiny has been growing rapidly. In 2011, Lusaka Destiny had 620 and children but the management decided to cut that number to 400 so to have good teacher/ ration. It looked very unfair to cut off 220 children but the capacity didn't allow us. Our desire has always been not to exclude any child from school. However, growing our capacity is a limiting factor due to sustainable challenges.
13. MONTH AND YEAR OFFICIALLY REGISTERED

Destiny Community Centre was officially registered as a nonprofit and nongovernmental organization in July 2008. This was after the Japanese government gave Destiny Community Centre $64,214 to construct a five classroom block and an ablution block for the school.

14. PLANS/STRATEGY TO GROW
Apart from taking our education provision to grade 12, Destiny wants to become teaching college for its teachers from the rural areas. We have long term plans to replicate Destiny Centers in both rural areas and poor urban townships. For us to achieve this, we will need to build teaching and management capacities to trains teachers to serve their communities.
Destiny has a desire in the future to run a transport and farming business so as to reduce its dependence on donations. Our vision is to reach the most underprivileged members of our society.
15. DESTINY COMMUNITY CENTRE WEBSITE LINK.
Destiny has no website at the moment. Our plans are to have one in the near future as resources allows.
16. EXPOSURE/VISIBILITY RECEIVED
Destiny Community Centre has not received any award at the moment. However, the Executive director has so many invitations from the vice presidents of Zambia; the foreign dignitaries accredited to Zambia and also attend special national gatherings.
17. COMPELLING REASONS FOR SUPPORT
Destiny seeks to uplift the lives of the people that are down trodden and hopeless. The repetitive cycle of poverty caused by illiteracy and low education levels has to be dealt with now for the betterment of the future generations. We tackle the poverty problem from its roots.
For us to effectively carry out our mission of providing equal opportunities for all , we need adequate resources and support. By and large these resources and support will come through strategic partnerships with like-minded organizations.
18. GRANT PURPOSE
If Destiny Community Centre was considered for a grant by any partner, this fund will be used to build capacity for Destiny Community Centre in terms of constructing a secondary school.
Over and above is to help Destiny Community Centre will provide the education from grade one to grade 12. Destiny is the only hope some children. No Destiny no future for some children. So partnering with Destiny Community Centre is life saving.
19. ADDITIONAL COMMENTS OR CONCERNS
If our words are not enough to communicate our need for your partnership, let our hearts communicate this need.
Latest project news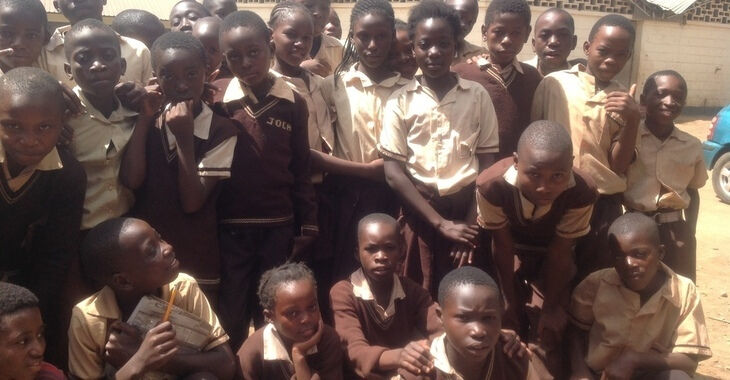 Grade Seven Examination Centre
Destiny School is now a grade 7 examination Centre 
continue reading
Contact
Ntara Crescent, Off Mzilikazi Rd, Industrial Area, Matero
10101
Lusaka
Zambia


P. Kaunda
New message
Visit our website