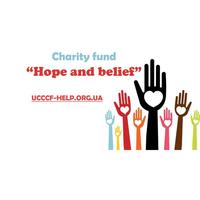 Hope and Belief Fund
managed by Vlad K.
About us
The Hope and Belief Charity Foundation was established on October 13th, 2005. The main mission of the Foundation is to raise awareness of the existing problems in the Ukraine in relation to the treatment of children suffering from oncological diseases in order to provide the level of recovery typical for developed countries.
Our objectives include:
- Providing children who have received treatment with the necessary medicines
- Poviding the specialized medical institutions of Ukraine with equipment and supplies
- The creation and support of volunteer groups working in medical institutions
- Informational activities and fundraising
The Foundation's main activities are providing financial and pharmaceutical support for children whose parents do not have the financial capacity, operational support for specialized medical institutions, the purchase of equipment and furniture for children's branches and carrying out charity events and fundraising to raise funds for sick children.