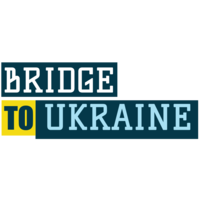 Bridge to Ukraine, Inc.
managed by C. Magee
About us
Bridge to Ukraine brings Ukraine to America, and America to Ukraine. We share Ukraine's story throughout America by bringing Ukrainian culture, history and, personal experiences to our American communities. We share America's story with Ukraine by sharing our culture, expertise, resources and good will. The relationships we form and the things we share enrich both countries.

The first program initiated by Bridge to Ukraine, the B2U Youth Bank, begins this connection by enabling Ukrainian Diaspora in America and Returned Peace Corps Volunteers from Ukraine to share their Ukrainian stories with Americans that don't fully understand and know about Ukraine. Through sharing, they can support a program that contributes to Ukraine's future generation, its development.


ABOUT US
The mission of Bridge to Ukraine is to make a strong connection between Ukraine and America through sharing of ideas, culture, and mutual support.

The mission is carried out by three methods.

1) Supporting Americans in Ukraine who are sharing American culture, traditions and ideas.

2) Supporting Ukrainians, or Americans who have lived in Ukraine, who are sharing Ukrainian culture, traditions and ideas in America.

3) Supporting and implementing sustainble development projects in Ukraine that address serious issues.

How it began.
Bridge to Ukraine, Inc. was started in Kyiv on a beautiful spring day in 2013. A group of Peace Corps Volunteers were preparing to leave the country and go back to the U.S., but the thought of going home was bittersweet. Everyone felt a special tie to Ukraine and felt reluctant to just drop everything and leave their friendships, their hard work, and their close connections behind. From this idea grew the foundation of Bridge to Ukraine.

Casey Magee had brought together a group of friends and companions in Peace Corps that he believed could still make an impact from America after their service. From this meeting came the framework and mission of Bridge to Ukraine, along with the solidarity of conviction to use our experience, connections and skills to keep contributing to Ukraine's development. We decided a bridge is the best analogy for our organization. We want to share Ukraine with the United States by sharing our experience, Ukraine's culture, and its people. We also wanted to connect Ukrainian diaspora, Ukrainian exchange students, and Returned Peace Corps Volunteers back to Ukraine through our connections and our development efforts, to keep Ukraine connected to the United States, and the United States connected to Ukraine.