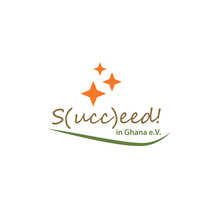 "Succeed in Ghana e.V."
managed by Daniela S.
About us
The association provides education through extracurricular programs in environment and health through arts, sports and culture. In the sense of education for sustainable development, we devote ourselves to the Sustainable Development Goals (SDG).
Above all, the association supports the Ghanaian partner organizations "Menyiwa da wo do" with its headquarters in Cape Coast / Central Region and "AFRICED-GHANA" with headquarters in Peki / Volta Region.
The projects of these two organizations are aimed at poverty reduction, health promotion, strengthening the rights of women and children and other socially disadvantaged groups in Ghana through the establishment of appropriate programs and facilities.
The purpose of assisting the association of its partner organizations is to raise funds and pass them on to its partner organizations for the appropriate use.
The association supports the education about health and hygiene measures and early pregnancy.
Contact
Bülowstraße 12
24105
Kiel
Germany


Daniela S.
New message
Visit our website