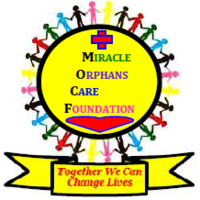 Miracle Orphans Care Foundation
managed by GLORIA B.
About us
Miracle Orphans Care Foundation

Miracle Orphans Care Foundation (MOCF) is a Non-Government Organization non-profit, which is based in Uganda
Through the support and donations, we hereby apply to receive the basic education support to help the orphans and vulnerable children in the areas where they need school support and a descent transport to cut the costs of transport to schools and healthy centers. MOCF supports 35 children with basic education materials including books, school uniforms, bags, school shoes, and reading books. The Ugandan government offers the Universal Primary Education (UPE) to most primary student who attends government schools so we use this chance to make sure all children get the universal primary education during their primary section. IN all universal primary Education schools, children pay a certain amount of money valued at Ug shs 35000 that is around +- US 20.
In addition every child paying USD 20, children have to purchase their own books, uniforms and find out places to use as libraries. 90% of Uganda schools have no libraries and those which have, has no books qualifying to certain subjects and topics children would like to read and discus according to the subjects and syllabus given.

Miracle Orphans Care Foundation has made a provision of all school materials like exercise books, reading books, school uniforms, lunch packages and better breakfast for each child, school shoes every school year and some other basic needs like pens, rulers etc. We currently have very few materials considering it to the number of children who are supported by this wonderful organization.

Your Support to Miracle Orphans Care Foundation (MOCF), it will be used to help in the basic foundation to certify the basic needs of all these children. Like setting up a Public library which will be used both with the children under the MOCF and those from vulnerable homes who can't afford prepaid charges for private libraries. The Grant will also help to support with the needs of all school children who have left school because of not having writing books, school uniforms.

The grant will also pay for all the fees that are supposed to be paid in by each of these children at their schools including their transportation.

Some of the Grant will go direct to the school materials and others to the school fees payments for the one secondary school student who pay 200,000 UG shs equivalent to +- USD 900 – 1000.

Our Target
Our Programs target orphans and vulnerable children and youth who leaving under the guidance and care and support of the Malaika Orphanage Children Foundation (MOCF).
Our Objective for this grant is to offer extra service program where the children will also have time to read those books recommended by teachers from their schools.
A research study will be proposed to see each student getting involved in the reading group so as to improve their reading skills, writing skills, and most of all their discovering more of what they are being taught in their schools.

2. Project Design Narrative
(2.1) Background and Problem Statement
(2.2) Children and Youth in Uganda
2.1.1 The continent of Africa is at a critical period in its development. According to the United
Nations, "in 2010, 70 percent of the population was under the age of 30.
African children continue to face major difficulties and challenges during their education where they are forced to be out of school due to not having the basic needs like enough books for the lessons in class, school uniforms and so many other basics needed for a child to be in class.
Children most times walk long distances to school without having breakfast or anything to eat before class till when they leave school for dinner in their homes. This leads to most children drop out of school and get involved into child abuse and labor activities by rejecting education and start seeking employment, better health, and a better leaving environment below the age of 10 -15. This is where most boys start collecting and selling scrap metals and plastics to recycling companies and most times get involved in stealing all metal materials they find in private and public companies, homes and on streets. Other gets involved in selling sweets and other accessories on Kampala streets.

2.1.2 Girls sometimes get involved in prostitution within their communities but other taken to cities and in other countries by greedy people to become professional prostitutes by promising them heavens and earth using them under child abuse Silvers and gold plus the most descent future they have never had. Other girls get smarter and look for house maid and home care jobs in township homes to try helping their small siblings back at home. Most times these young people become bread winners in big families. During this period when children drop out of school and start the child labor, they get used to having some money and most often they end up forced to lose by selling their home lands and agricultural land that is rightfully theirs, and are abused through forced labor, neglect, abandonment, abduction, and human trafficking. This is all in violation of the "fundamental rights and freedoms contained in the International Bill of Human Rights. African nations, including Uganda, have entered treaties that bind these rights into law. But, there are many problems.

2.1.3 MOCF dreams to create a platform where children and youth become free and get involved in the participation in decision-making processes" a shoulder to those children who need help to cry one. The Rotary Club participation by awarding MOCF this grant will make a very big difference by supporting where big help is needed to create comfort among those children and young people who need it and to make a great foundation with a strong infrastructure which can make a better future for them.

2.1.4 The children and youth of Africa make up 40% of the workforce, and 60% of the unemployed. (African Union, May 2011). The widespread poverty that is created by this situation creates desperation that could easily boil over into civil conflict. For example, the recent North African "Arab revolutions had a clear economic underpinning: they were fueled by poverty, unemployment, and lack of economic opportunity." (Middle East Institute, n.d.). The youth of Sub-Saharan Africa are facing this same triple threat. Approximately 3 out of 10 African youth live on less than US $1.00 per day, which is only half of the United Nations poverty level (UNESCO, April 2010).
Therefore, the work on treating the cause by creating better education opportunities for these young people and giving them skills while they are still young, children and youth can make a better future for themselves. We believe that with a better education and child hood skills that we provide to them, they can be able to fight poverty and hunger into their families and communities when they grow up.

2.2 Children in Uganda and in our communities

2.2.1 Children in the Uganda face major challenges like being abused to the extent of running down to sleeping on the streets and eating dust foods from Bins and begging. If they get a chance of growing up, they either become Boda-boda motorcycle riders with behaviors poor of abusing women, young girls and so many poor behaviors. Some of them become conductors on Street taxis. Our research shows that many of them die of HIV on their early age because of the money they make after a long term suffering and spend it on women, but on the other hand they have no guidance from any one for protection about early sex behaviors. Others use drug to grow up and end up losing their memories and becoming mad people on streets who eat in bins and stay their lives in dirty clothes.

2.2.2 Malaika Orphans Care foundation has adopted several orphanages in Wakiso, Kampala and Mukono Districts. According to our research children in rural areas drop from schools and flock to the city to get more opportunities of better lives but when they get there things get worse and decide to sleep on streets then adopt township street behaviors and child abuse/labor abuses and exploitations.

2.2.3 Our Vision is to go down to relieve the cause of distress in the lives of these young one wherever we can. International support helps a lot for there is a big gap with much expense to get some of the work done.
The Rotary grant will do a very big difference in changing the Education part of these young people.



4 Objectives and Expected Outcomes

The Ugandan Ministry of Labor and Social Development recently wrote in their "overarching planning framework for national development" (2011):
Despite the existence of policies, legislation (sic), and institutional frameworks... the Overall institutional capacity for coordination and implementation of the national OVC (Orphans & Vulnerable Children) interventions are (sic) still weak (2011).

I. To Buy a Transport for the children to have SAFE transportation to school and to the healthy centers
II. Promote and provide quality education opportunities for all MOCF children education and training strategies for youth;
III. Improve the ability to secure decent opportunities for them during their school work, research and study programs, through formal so that they can have better opportunities to live better lives when they grow up and most of all every one of them to develop their own communities.
IV. Enhancing better lives and give children a chance to express their views and sharing their ideas.

5. Psychosocial Support
MOCF is a Non-governmental governmental organization found on the basis of love, care and support for the needy and support for the helpless. Our faith is to believe that God is always available when we need help. By the grace of God, MOCF will always do its best as a support organization with the help of so many other supporting international organizations. MOCF children are nurtured, according to their degree of interest. All religious views or lack thereof are done with respected without discriminating any gender, nature, culture, religion or nationality. Our strong psychosocial support program includes a strong mentor-ship program that helps MOCF to cover up all its field work and does the survey on each and every member/(Children)'s school needs. We believe that this is a support that helps children to groom up into strong leaders who will lead their future lives and become role models leading to develop their communities and who will become the leaders of a new generation.

6. Conclusion
Miracle Orphans Care Foundation (MOCF) Capacity Statement

The Board Members of Malaika Orphanage Children Foundation (MOCF) and the proposed management team of the (MOCF) surely understand the need to
Evaluation Plan on the kind of work that we committed to do, MOCF will use the combined effort as a tool that will be collaboratively designed to integrate and
Guide the monitoring, evaluating and reporting of each part of the project's progression toward the intended results and outcomes. It is also a management tool that will help the team manage on the daily activities so that they can accomplish the targeted results and objectives.
OUR VISION
Empowering Africa children; we strive for every orphan and other marginalized groups to have a humane chance in life.

MISSION
To empower through educating and providing for the desperate and deserted orphan and women in the African communities through individualized, family-centred, community-focused care in order to give them a brighter future, by providing them with basic needs and support through early childhood development, advocacy on HIV and AIDS.

OUR CORE VALUES
Compassion for orphans and vulnerable children, Social justice, Equality and equity

The Project Direct Target groups
This project will use the social support strategy which emphasizes active engagement of communities, families and individuals in provision of support including nutrition, psychosocial, formal and vocational education, and economic and legal support to vulnerable groups.

The priority vulnerable groups are orphans and other vulnerable children, people living with HIV/AIDS, women and persons living in circumstances of deprivation such as the disabled. Grassroots units who are often the direct beneficiaries of MOCF's activities include whole village communities led by their local community leaders, elders and represented by the Parish Development Committees (PDCs) and sub-county technical persons

MOCF Project Goal:
The overall Goal of this MOCF project is to build an Orphanage with a day care facility, Medical Facility and to contribute towards integrated Access to Quality HIV and AIDS Prevention, Treatment Advocacy; Family based testing and counselling Services, linkage to HIV and AIDS care in Kampala,Wakiso,Mukono,Mpigi, Kalangala and Luwero Districts by the end of 2018.

MOCF Project objectives
To build an Orphanage home with a day care facility for destitute widows to enable them to work and provide for their families and a Medical/Hospital Facility for Malaika Orphans Children's Foundation

To expand the availability of care and support to Orphans for people and families infected by HIV and AIDS
Miracle Orphans Care Foundation aims to increase access to basic education to Orphans and Women by supporting the disadvantaged children such as; OVC's ,disabled ,abandoned and neglected children with all holistic and comprehensive scholastic education support materials

Our Capacity
Miracle Orphans Care Foundation cares for 15 full-time children and reaches out to the vulnerable children who are having vulnerability within their homes.
currently our home is a drop in center for abandoned children and those who are dropped in hospitals, plus those picked on streets or different places by the local police. Your donation and support can maintain and make these innocent lives a better home and a safe place shoulder to lean on.

MIRACLE ORPHANS CARE FOUNDATION
(MOCF) Orphanage Home and child day care services
(Child care in rural communities and child headed homes)

MOCF focuses on assisting AIDS orphans living in community child-headed homes. Keeping children in their family home provides them opportunities to sustain themselves through income generating projects that will be created with our support . We provide some of the basic needs to some of the rural child-headed homes as these homes established children families also work to earn a living from the income generating projects created, for example farming, poultry keeping, pig breeding etc.

FULL TIME ORPHANAGE CARE
We have an orphanage home where we keep children who were abandoned and have no relatives to care for them. We give them full-time care through our orphanage caregivers. providing food, clothing, medication, emotional support, social support, spiritual support etc. After getting a bigger orphanage home and stable facilitation we hope to increase the number of children under our immediate daily care.
People around the world usually hear about child dying in Africa due to hunger or communicative diseases like Malaria, HIV/AIDS, Cholera, polio and measles, but nowadays there is an increasing problem of abandoned new born babies straight after birth. Like everywhere in the world child abandonment has existed in Uganda in many years, thus since a long time a few children homes has been in existence to handle this problem.
An estimated number of 40 to 80 new born babies are being abandoned by their mothers in Kampala Uganda annually. Poverty, diseases, rape and incest; domestic violence and rapid urbanization all contribute to a huge number of children being abandoned, neglected and abused in Uganda. There is no welfare safety net and the support traditionally provided by the extended family has been eroded by HIV/AIDS, poverty and war.
Many babies are abandoned in the hospitals, dustbins, on streets, bushes, car parks pit latrines and roadsides of Kampala and admitted into our care malnourished, traumatized and weak.

CARE FOR ABUSED/NEGLECTED CHILDREN
Under this project we also consider children who have been removed from their parental custody for reasons such as abuse, negligence, rape and abandonment. Some children are reported to be mistreated by the people who are meant to care for them as relatives when their parents pass away. Such children end up being mistreated and abused in one way or another; rape/sexual harassment, denial of food, clothes, education etc. We haven't got such case of children yet but this project also focuses on taking up such children if there are case reported at police and they approach us to help. These children can be given to us for care and safeguarding until further notice when it is deemed okay by law to give them back to their relatives.

Some parents especially widows may fail to provide for their children due to lack of jobs and capital to start up businesses from which they can sustain their children, if they come to us for help, we keep and care for these children for a period of time as we give their mothers a chance to enroll in our women skill development programs from which they acquire skills to enable them start up self employment to be able to provide for their children.

DAY AND FULL TIME CHILD CARE FOR SINGLE PARENTS
We also provides day or full time care for children of destitute widows/single parents in the community to create an opportunity for them to work, stabilize and provide for their families. Children can stay with us for a short time or as long as they need depending on the need of the child or parent. We look after their children to give them a possibility of working for sustainability and independence of their families. We take children in day care at any time and of any age from ages 0- 10 years. We give all our children a safe and loving home and provide a healing environment for those traumatized/abused/abandoned.

Through our day care facility we also provide early childhood training/learning to enable the children to obtain knowledge which will help them cope up easily in their nursery and primary levels of education. We also teach good morals and and foster growth of christian faith among our children in our Sunday Sunday school and religious classes offered by our volunteer pastors.
We also hope to introduce a children band, talent development and music, dancing and drama curriculum as part of our orphanage home to enable children discover their talents, abilities and capabilities. The program managers believe that, in the Districts of operation, we will reach about 30% of the orphaned/abandoned/abused and neglected children who will benefit from this Program Projects.

This organisation cooperates with the Maecenata Foundation:
https://www.betterplace.org/c/help/what-is-maecenata/
Contact
Kanyanya, Kitambuza Zone, Gayaza Road
Kampala
Uganda


GLORIA B.
New message
Visit our website