Club Cultural Drake
managed by M. Wegener
About us
Drake Bay is a small village with about 500 inhabitants on the edge of Corcovado National Park.
There is a primary school and a secondary school, but the education quality is moderate. As a leisure activity, there really is nothing except football or bingo afternoons.
I moved here almost 5 years ago and since then had the idea to open a cultural center as for:
-Free-leisure activity for all the villagers
-To give an alternative to drug use in the streets
-Place where you can dance without consuming alcohol
-Special events and games for the children
-Language classes for better Job Opportunities
-Exercise offerings to support the mobility and health
-Theater improvisations, crafts, artwork
-Lectures on topics such as "construction with clay and plastic bottles"
In February this year, I learned of a free space, rented it, found by asking around a music professor, a Zumba teacher, an art teacher and a dance teacher who here in the village have other jobs and teach at the moment for no salary (except the physiotherapist who do all sports classes, for her its the main source of income).
Drake Bay thrives on tourism, but the high season is from December to April and the rainy season from May to November, where people have to live on the income of the high season.
Before opening the club a few hotels helped me, so I could buy tables, chairs, speakers, yoga mats and fans.
We need each month for the club: $ 200 rent, $ 200 salary for the physiotherapist who teaches all sports courses and about $ 100 for electricity, water, sanitary items
We need $ 3,500, so the existence of the club is secured to the end of the year. Until then, I'm trying to find a sponsor.
We are also pleased about all kinds of musical instruments, children books in English, German or Spanish, games or a projector for movie nights.
All donations go 100% to the project.
Latest project news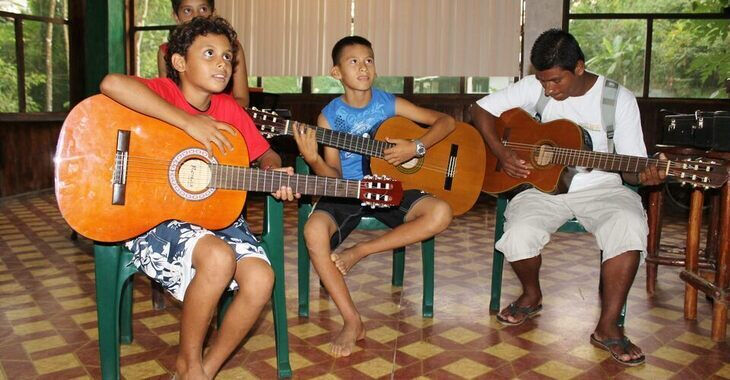 Für diese Bedarfe habe ich eine (Teil-)Auszahlung veranlasst:
Es werden die Lehrer davon bezahlt, die Zumba, Zeichnen, Pilates, Gitarre, Piano und Deutsch fuer die Kinder und Jugendlichen unterrichten.

Es wurden 200,00 € Spendengelder für folgende Bedarfe beantragt:
Culture Club Drake 200,00 €
continue reading
Contact
contiguo iglesia cristiana
60503
Drake Bay
Costa Rica

M. Wegener
New message
Visit our website