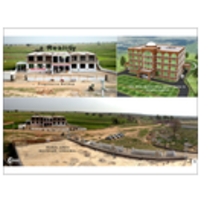 BIN QUTAB FOUNDATION
managed by I. Ilyas
About us
PROJECT (200 BEDS) HOSPITAL & 10 INTEGRATED COMMUNITY CLINICS AND WELFARE CENTERS
(Potohar Region Project)
BQF aspires to work across Pakistan. It Plans to support development process of Government of Pakistan in all rural and urban communities. However, it is impossible for BQF to start activities across Pakistan at a time. After thorough deliberation and consultations with many philanthropists, Development Experts, Sociologists and Government Officers, it is observed that Health and Medical Facilities would be first project.

Important to note is that 95 percent of Standard Medical Facilities (Hospitals and Clinics) are available only in big cities in Pakistan, whereas 70 percent of the population lives in Rural areas which direly needs these facilities. Therefore, BQF in view of its prime objective has decided to start its first Health Project in Rural Pakistan and selected Phtohar Region as an Entry Point and Chakwal as a center of development activities for ultimate benefits of 5.6 Millions of population in 6 surrounding districts, particularly covering Big and Small town like, Chakwal, Choha Saidan Shah, Tala Gang, Kalar Kahar, Gujar Khan, Sohawa, Southern Part of Rawalindi district, Northern part of Sargodha district, Khushab, Mianawali and Attock Districts. Also covered are Jehlum, Mirpur, Mangla, Dina, Mandi Bahauddinn, Pind Dadan Khan, Bhera, Khewra, Malikwal, & Bhalwal as well. There are hundreds of other big and small towns and villages in between these areas which would be benefited from this Project.

The decision to select Potohar Region for initial activities has been taken on two grounds. Firstly, in development terms, Chakwal and surrounding 6 districts of potohar region need immediate attention from Philanthropists, Donors, Politicians and Pakistan Government. Secondly, the BQF founding directors have received highly encouraging response from the rural and urban communities in Chakwal region. The community activists and ordinary members have not only welcomed the establishment of BQF but have also contributed human and financial resources for upcoming initiatives.

It is worth mentioning that approximately entire 100 Kilometer radius area around Chakwal lacks any Standard Medical Facility and resultantly the whole population of these 6 districts, for their Health and Medical needs, are traveling day and night to Rawalpindi / Islamabad. Besides their hardships, the Government and Private facilities in these cities are overburdened. With BQF initiatives, this burden of Government of Pakistan would be shared. Therefore BQF expects lot of support from Federal and Punjab Government particularly for this health project.

Another reason is that Chakwal District has got highest number of disables in Pakistan and highest Hepatitis and Cancer patients in Rawalpindi Division which comprises of 5 districts. Therefore a research based solution for prevention and cure of these diseases would be offered in collaboration with others Partners like Shaukat Khanum Memorial Hospital and Research Centre, Lahore and Shifa International, Islamabad.