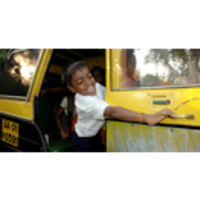 Ebin Foundation
managed by K. Böcker
About us
We provide 24 hour family care for children who are staying permanently with us and a day care centre for local special needs children. Our programs include:
• Therapies – depending on the needs of the child we offer physiotherapy, therapeutic yoga, massages, and other therapies
• Rehabilitation swimming and water therapy
• Computer lessons
• Camps, excursions and sleepovers
• Transport to needs-appropriate schooling and appointments, school fees
• Medical costs for operations and doctor's visits, hospital visits,
• Special needs equipment, and other support for families in need

Special needs children live in a world that constantly confronts them with their limitations. At Ebin Foundation we aim to create an environment that can be adapted to the individual needs of each child. Joy and possibility lie at the heart of our work; whatever obstacles stand in the way of experiencing life fully, we try to move around them and make it happen.

Our vision is to create a self sustaining community for people with and without special needs. The next step will be to build a home that can house nine special needs children permanently and serve as a day care centre for many more local special needs kids.
Contact
H.No. 258, Kalchawada
403524
Arambol, Pernem
India

K. Böcker
New message
Visit our website