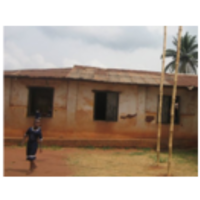 Free Volunteer For Africa
managed by g. adenyo
About us
Rehabilitation of 3unite class-room block of Prince Ade Academy.
Free Volunteer For Africa is rehabilitating a 3unite classroom block for Prince Ade Academy, a basic school in Kpedze in the Volta Region of Ghana.
This humanitarian initiative needs an argent action to be taken to save life and property. Therefore after several deliberations, we find it very relevant to rehabilitate the 3unit class-room block which are in a very deplorable state been occupied by the infants ( kindergarten pupils).
The project is estimated to course GH₵10,348.00 (5174 US dollars) after preliminary survey.
With the joined effort of FVA and the Parent Teacher Association of Prince Ade Academy,an amount of GH₵ 2146.00 (1073 US dollars) has been realized.
Donations and Supports especially cash are welcome.
This is to help the children enjoy better and quality education under a conducive atmosphere.
We believe this initiative will help boast the attendance and punctuality of the pupils.