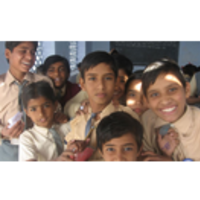 Sufi Saint School
managed by l. adjina
About us
The aim of the Sufi Saint School is to bring children together from different communities, irrespective of their caste, colour, religion and gender and to provide them free or subsidized education in order to make them self-sufficient in life. Our school wants to promote the feeling of harmony, peace and universal brotherhood so that the students may become better citizens of this word.
The Sufi Saint School currently has around 300 students. 70% of them come from poor or very poor families (monthly income 30-50 Euros) and the remainder 30 % from low income families (monthly income 60 – 100 Euros).
Students from very poor families get preferential admission and are offered funded scholarships from sponsors. Currently, around 60% of students receive this financial support.
Since 80% of children are undernourished, a fund has been established to enable the school to provide occasional meals.