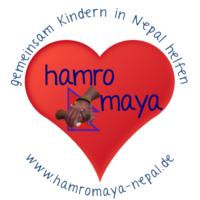 hamromaya Nepal e.V.
managed by Khai-Thai
About us
Hamromaya Nepal e.V. has been supporting children in Nepal with a variety of projects in the field of education and youth welfare since 2012.

Our Charity cooperates with local Nepalese NGOs to provide free education, accommodation, a balanced diet, access to clean (drinking) water and sufficient medical care to underprivileged children in Nepal.

"hamromaya Nepal" means "our love Nepal".
In fact, it is our love for the children and the country itself that is driving us to do what we are doing now. Every child deserves a fair chance to claim its human right to education, food, water, medical care, clothing and a safe home – no matter of its "race, colour, sex, language, religion, political or other opinion, national or social origin, property, birth or other status."

That's what we stand for!
We all work on a voluntary basis without receiving any salary.
Your donation will always reach to 100% our projects.

We are looking forward to your support!
Thank you for your trust!
Latest project news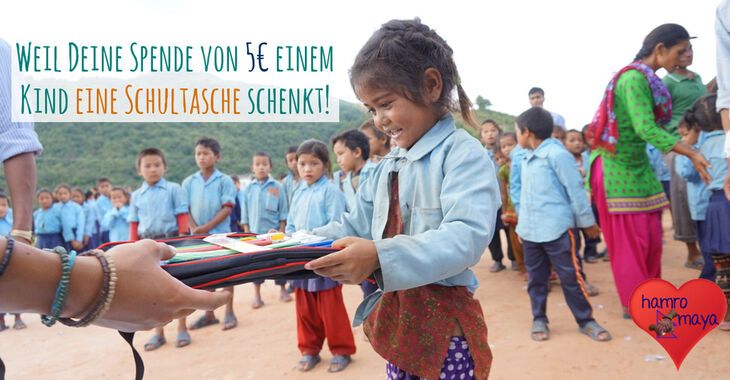 Wir haben 2.452,66 € Spendengelder erhalten
Unser Schultaschen-Projekt in den südlichen Distrikten Mahottari und Dhanusha wurde Ende Februar erfolgreich beendet. Wir haben in diesen Regionen 2.280 mit Schulmaterialien gefüllte Schultaschen verteilen können. Wir haben dabei ausschließlich Schulen ausgesucht, die von Kindern aus den benachteiligten Kasten Nepals besucht werden. Die Regionen unserer Projektreise sind nämlich größtenteils von der muslimischen Gemeinde Nepals sowie der Kaste der Unberührbaren beheimatet.
Bilder unserer Projektreise folgen in Kürze.
Vielen herzlichen Dank für Eure Unterstützung!
continue reading
Contact
Hans Thoma Straße 22
60596
Frankfurt am Main
Germany


Khai-Thai
New message
Visit our website