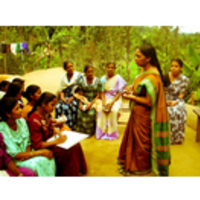 RASTA
managed by Rasta W.
About us
RASTA began in 1987 as a social delivery organization, more as clearinghouse for implementing projects of welfare nature. This was not intentional but to make inroads and learn from the community.

Gradually, it shifted its role by securing the participation of the community promoting people based institutions. As a growing organization, Organizational Renewal Process was carried out. This helped to give it clarity and strategize its goals with new vision. As an outcome, the dynamics of project implementation changed drastically departing from the past.
Participatory Methodologies were introduced systematically; there was paradigm shift of project's implementation style. Decentralization took place. Projects were planned, implemented, and monitored by the community. With the adoption of participatory methodologies there was horizontal growth in the field, while new heights were scaled with the organization's vertical growth. With the enabling environment there was greater ownership of projects.
Over the last few years, RASTA has capitalized on the learning's, this provided opportunities for expanding borders of its activities. It has evolved from traditional voluntary agency to a growing Institution, providing a broad spectrum of developmental activities through organizational development. It is seen as a logical extension of its services. The new role has brought greater responsibility to be responsive to the fast changing external environment.

Objectives

o Empowerment and enabling of the marginalized people of Wayanad Dist to be more self-reliant.
o Promotion and Development of ecologically and socially appropriate technologies to improve the
quality of life of the women and farmers.
o To complement and synergize Governmental efforts for rural change.
o To enable local communities to attain improved livelihood through sustainable use of Natural
Resources.
o To enable local communities to tackle emerging health concerns.
o To attract educated youth into the field of Rural Development.

Target area

RASTA works in Wayanad, Kasargod and Kozhikode District of Kerala in south India. Target groups are Women, children, indigenous communities and farmers and other weaker sections with coverage of thousands of families.