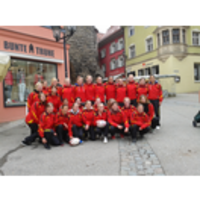 Adler Sevens - Alice is running!
managed by betterplace-Team
About us
I want to run the Rock 'n' Roll half-marathon in Las Vegas on the 2. December 2012 in order to collect money for the "Adler Sevens" - A German rugbyteam consisting of talented women.

Please support me - Every donation counts!

The "Adler Sevens" need our help, in order to finance training camps and to prepare for international tournaments. All donations will go 100% to this cause.

Most of the women in the "Adler Sevens" are nominated for the national team, under the management of the german national coach Susanne Wiedemann, and have the chance of representing their county in international rugby sevens.
Although very successful, women-rugby in Germany hasn't got enough financial support. That's why they need our help!

The fees of the marathon, travel costs, accommodation and catering will be taken care by me and all the donations will go to the "Adler Sevens".