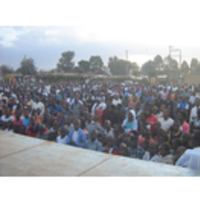 dominion indigeneous bible college
managed by d. kajiita
About us
Thank you for visiting my page at better place.org!
the dominion family church Kenya recognizes the need for training indigenous ministers who in return can reach their people in the language they can understand.
indigenous ministers can easily reach their people because they don't have cultural barrier,language barrier and the much they can spend in their livelihood is far much low compared to what a missionary from a different culture or even from abroad can spend.a missionary from a different language background and culture will spend much to learn the language,adapt to the climate,eating habits and even the means of transport and the dwelling place.indigenous ministers do not have such limitations.they can easily reach the local people immediately if given the skill and support they need.
in this respect the dominion family church Kenya have a one hectare peace of land in Tharaka district eastern province of Kenya and intends to establish a bible college with an intention of equipping the local ministers to be effective in ministry.
we believe there are ministers with a calling from god who had no chance to secondary education,or even higher learning.this college will be established in a way that the educated ministers will have their opportunity.and the non educated will also have their chance of training even if its in the language they can understand.in this training center we also intend to reach the local community on ways to deal with drought and food security.this will be through frequent seminars and talk shows.
the initial need now is the construction of at least four class rooms and administration office.we are planning to use the local materials for the construction.
therefore friends we request for support of this great vision to strengthen the body of Christ..our target is 4,700 euros. if god puts this in your heart to support this vision contact Rev.daniel kajiita on the email;danpaulcyundu774@gmail.com.you can send your donation through pay pal on the same email.you can also use all other means of payment and god will bless you.remember it is what god has blessed you with that can bring a difference.together we can make a difference in the name of Jesus.a small donation of one euro ten,twenty,or more will make a difference.
there is much more to achieve in this training center.