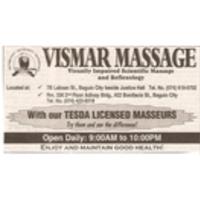 Visually Impaired Scientific Massage & Reflexology
managed by J. Montes
About us
VISMAR is composed of men and women who are visually impaired, grouped themselves together to form a cooperative. They are basically engaged in massage services to other people outside their cooperative and render credit services to its members.

Members of VISMAR wishes to improve their massage services by way of additional trainings and education by experts while earning a living.

They also wish that they will continue to be educated in braille. Some members are equipped with the skill but due to the absence of braille equipment and computer, the skill is limited to few.