Where we've come from
Once upon a time: Our story begins in 2006 with the Breidenbach family. During a trip around the world they realized that small social projects which don't have a large marketing budget nevertheless deserve to be heard about. But they weren't the only ones to come up with the idea of a free online donation platform. Soon after returning, they met rugby player Till Behnke …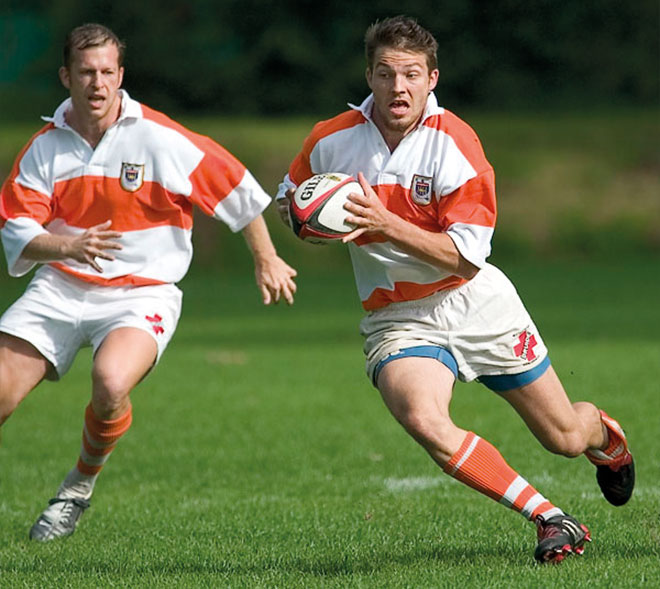 "South Africa is a great place to go to play rugby – but also to realise that rugby's not everything."
Two teams – one thought.
"Is this all there is?" Till Behnke **wondered, when he started working for DaimlerChrysler Financial Services after having **studied in South Africa. The passionate rugby player found himself wanting to use his degree in economics for something more meaningful than just climbing through the ranks of some large companies. Because in South Africa he'd worked as a volunteer in the townships of Cape Town.
He worked together with Line Hadsbjerg, an anthropologist by training working in international development, trying to answer the question: How can we use the internet to improve the lives of those in need all over the world? Till had the idea for a platform which was a "social enterprise" financed through partnerships with businesses, so didn't keep any of the donations for itself. So the basic idea was there – what was missing? A passionate founding team! Philipp Baier, Moritz Eckert, Georg Friedrich, Axel Kuzmik and Bodo Sieber came aboard and together they founded betterplace.org – attempting to use the new medium of the internet for more than buying books, booking flights or making new "friends".
The Breidenbachs on the road. Not in shot: the many small grassroots initiatives that the Breidenbachs came across, which without the internet almost nobody in Germany would ever find out about.
At that time, Joana and Stephan Breidenbach were returning from a five-month trip around the world with their children Lilian and Vico. On their travels they had met a series of inspiring people who were using their own initiative trying to improve the world around them. But these people often lacked the most basic resources and expertise – be it for a cheap, eco-friendly irrigation system, or effective medication for water blindness. Because projects like this fall beneath the radar of traditional international aid, they had no access to these sources of funding – this is what's now known as the "Long Tail of Charity".
When they returned home to Berlin the Breidenbachs, along with a small team comprising Samir Sekkat, Nunni Haferbusch and Hannelore Knott, came up with the idea for a platform which would give people the chance to present their work to a global audience and to find people who wanted to see what concrete difference their support was making. A transparent, global network.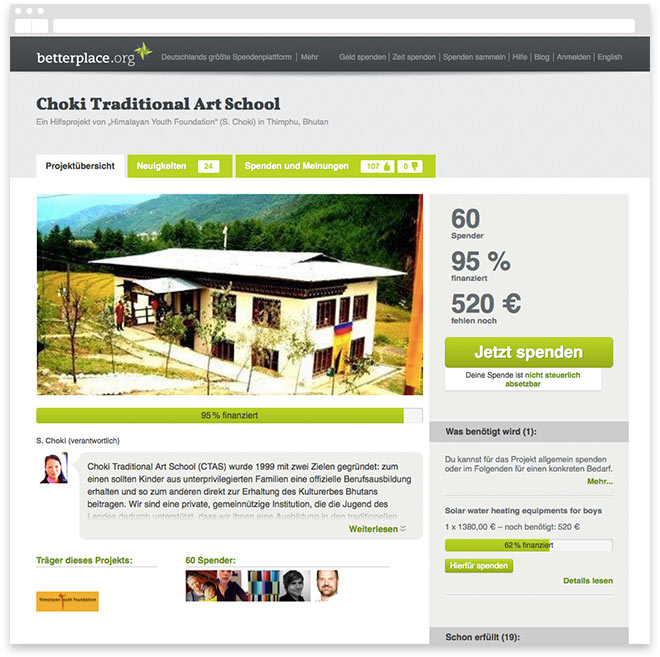 The "Choki Art School", which the Breidenbachs visited in Bhutan, became one of the first projects on betterplace.org.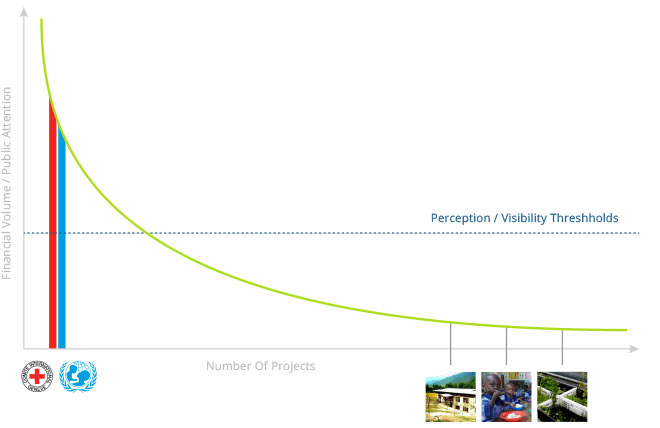 The "Long Tail of Charity": the original idea behind betterplace.org was above all to be a stage for the many small grassroots projects all over the world, so that they can reach a broad audience for the first time.
An online platform for social projects.
After meeting a couple of times it was clear that the Behnke contingent and Breidenbach contingent not only had the same goals, but had also charted similar courses. Nothing made more sense than joining forces under one banner – betterplace – to increase the power of the combined vision.
Meanwhile, Jörg Rheinboldt and Stephan Schwahlen had also come aboard. Jörg had previously founded alando.de, a platform that was bought by eBay. He was excited by the idea of applying** his experience with online marketplaces to a platform for social engagement. Stephan Schwalen, on the other hand had, had founded the charitable organisation OFW while still a student in Cologne and was working, amongst other things, for Boston Consulting Group. Joining betterplace meant Jörg and Stephan could not only help **the donation market to become bigger, more efficient and more effective. They also wanted to develop our Save The World Brigade into a sustainable, scalable, non-profit business. And on 9th November 2007, the betterplace.org platform launched.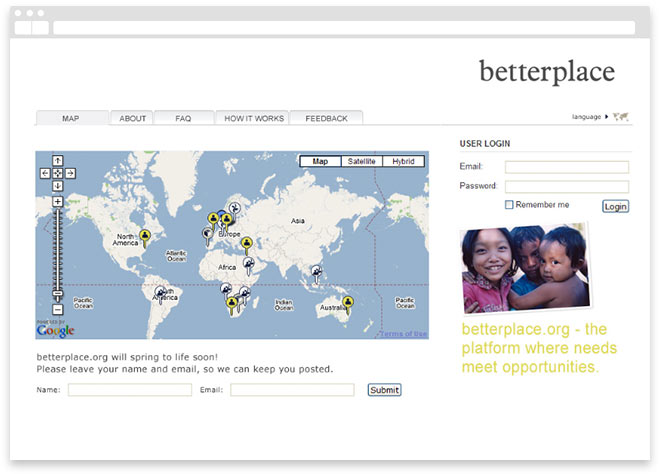 Everything was pretty grey to begin with – version 0.9 of the platform from the year 2007.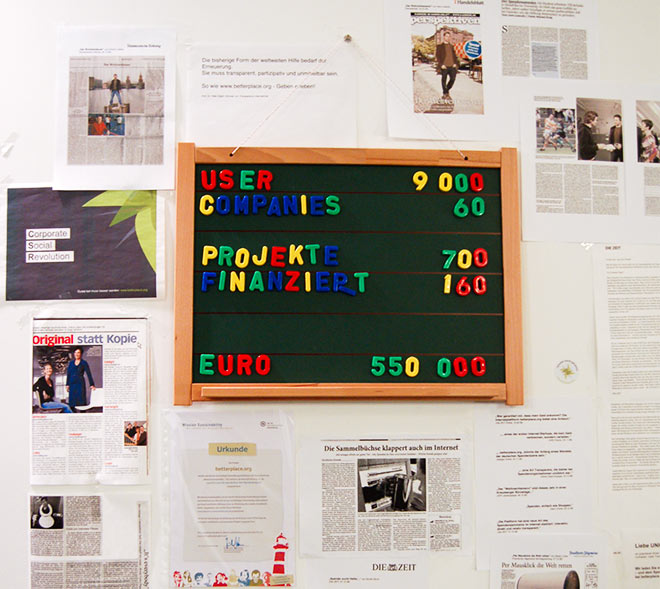 … but it soon got brighter. 2008 saw not only the arrival of more projects and donors but also this high-tech dashboard to track the platform's growth.
And more and more people are joining in.
On his 50th birthday Bernd Kundrun **fulfilled a long-standing ambition. **He wanted, with a large contribution from his personal wealth, to improve Germany's social economy. As Head of the Board at Gruner+Jahr he had come into contact with, and seen the value of, many charitable initiatives. That's how he came across betterplace and, after a few meetings, he decided to become an investor in the newborn non-profit corporation gut.org gAG, the parent company of betterplace. Around the same time, Oliver Grün, founder of Grün Software AG, came to the same decision, bringing with him a wealth of knowledge about donation-financed organisations. More investors followed: Roland Hoffmann-Theinert, Alexander Rittweger, Pedro Schäffer, Gerd Schnetkamp and Michael Tuchen, all of them supporting betterplace through future challenges.
Around this time, the betterplace lab emerged alongside the betterplace.org platform. The betterplace lab researches where social and digital innovation meets, analysing trends in how people are changing the world and showcases inspiring examples of the internet and mobile phones improving lives.
betterplace.org is Germany's biggest donation platform and the betterplace lab is a leading light with regard to the digitalisation of the social sector.
Investors, board members and the team: Dozens of people from different professional backgrounds now support betterplace, come rain or (as shown here) shine. Thank you all!