Kultur für ALLE e.V.
managed by Götz W.
About us
With his association "Kultur für Alle" ("Culture for All"), founded in 2008, Götz Wörner has made socio-political history. His Culture Pass has so far enabled 10,000 people in need to obtain affordable access to the city's theatres, museums and stages. Wörner's project has since received several awards. Currently, the resourceful social entrepreneur is exploring new avenues.

In early 2008, Götz Wörner was at his wits' end. His company was bankrupt. The failed record producer had been living off welfare benefits for six years. He spent his days at the Frankfurt Bethmannpark, observing ravens with his binoculars. His telephone hadn't worked for a while. Then the electricity company turned the power off in his flat. "I was running on empty back then", he remembers. But Wörner still had his pride. He wanted to offer his then girlfriend something special: a visit to the opera. "I used to know the artist who was due to perform." This was back in earlier days, at a time when Götz Wörner was still jetting around the world and meeting musicians in Havana, in Rio, in Tokyo, in Paris and New York. If you know the artist, you're sure to be let in, he thought. But ten years on, his former friends didn't want anything to do with him. "I was nothing but a lonesome cowboy." The embarrassment he felt in front of his girlfriend got to him. 32 euros admission – where can he get it from? He felt left behind, shut out. "I thought to myself: '32 euros – how can that be?'" And his next thought: "You can't starve in Germany, but your brain can dry out."

Starting with nothing

It was to be the birth of his new life's work: the association "Kultur für Alle". People with nothing should be given affordable access to culture. Wörner applied to foundations. He was given the use of a desk for a few months at the Citizens' Institute. Later, he received start-up assistance from the city's centre for the unemployed, the Frankfurter Arbeitslosenzentrum (FALZ e.V.). "I had nothing. No writing paper, no photocopier." Step by step and without money, he got things off the ground. He wanted to offer a culture pass for all those who were living on a minimum wage, which should cost one euro for adults and 50 cents for children. With the pass, a visit to a museum or a concert should then also only cost one euro or 50 cents. It was important to him that the tickets shouldn't be free. "Culture costs money." But to do this, he needed institutions to help. Contact with municipal bodies was slow to get off the ground at first. But when Wörner suddenly had 100 tickets for the Book Fair, 30 tickets to an Udo Lindenberg concert, and 30 more for the Berlin Philharmonic Orchestra, he turned to the press. "Within a week, 500 people were knocking my door down." Only eight weeks later, Wörner managed to land a huge fish in the form of Max Hollein, the director of Städel, Schirn and Liebieghaus. A year later, the local museums followed by resolution of the City Parliament. The Alte Oper, where it all began, is part of things today, as is the Hessian Broadcasting Association with its symphonic orchestra, and many more.

Lots of copycats

At first, the concept of enabling people in need to participate in culture according to the one-euro principle was unique and trailblazing in Germany. And it has had a knock-on effect during the past few years: Götz Wörner has since issued 10,000 Culture Passes. His distribution system, which was full of gaps in the beginning, has almost closed. His applications are available at over 50 city establishments, in particular from social and welfare centres or churches. In addition, there are 20 associations who also work with people in need and can help them fill in the applications. Other cities and initiatives have copied his model. For him, this is fine. As the creator of the idea, he continues to receive awards to this very day. The certificate "Ort der Ideen 2010" ("Place of Ideas 2010") hangs in the offices of the association on Escherheimer Landstrasse, signed by the former Federal President Horst Köhler; next to this hang photos of Götz Wörner posing beside Federal Chancellor Angela Merkel or the former Head of Frankfurt Cultural Affairs Hilmar Hoffmann. On display are also the Walter-Möller plaque, the highest award by the city of Frankfurt for voluntary work, and the citizen's prize of the Frankfurt Sparkasse, which was presented to Wörner by the Head Mayor of Frankfurt Peter Feldmann on 23rd July 2015 – the latest award so far.

Sights set on a new target group

Wörner and Feldmann get along well. When the social entrepreneur initiated a new Culture Pass for young people last year, Frankfurt's Head Mayor introduced the project together with Wörner and took over its patronage. Here, Wörner appropriates a statistic which Feldmann also likes to mention: "If every fourth child in this city lives in poverty, then each one of them should also receive a Culture Pass," is his demand. And Wörner is required as a networker again. Again, he needs partners to spread the news about his idea and to make sure the applications are distributed. Schools, childcare centres, sports clubs, child and youth welfare institutions and many others are candidates. "In order to reach the children, an internet site isn't enough."

Unconditional correctness promised

Whether a young person or an adult – whoever wants to have a Culture Pass has to provide evidence that he or she is receiving some form of social security benefits. In this way, the need of the applicant is legally ensured, so to speak. "Sometimes there are borderline cases," says Wörner. But there are no exceptions. He had to promise unconditional correctness to the cultural institutions. It is possible to just present the Frankfurt Pass. This document, also issued by social services, also enables socially vulnerable people to visit cultural institutions at a discount: with the pass, the zoo, the palm garden and swimming pools cost a euro; a 50 percent discount is given for museums. Wörner doesn't view this as competition, but rather as an addition. He undercuts the municipal programme for some offers. "Half the admission price for a Botticelli exhibition costs eight euros with the Frankfurt Pass. With my pass, it costs one euro." On the other hand, he doesn't have swimming pools and the zoo in his portfolio. And he has also been unable so far to offer the combination with a city-subsidised RMV travel ticket, the Clevercard.

Come a long way with support

By now, the many awards have poured several thousand euros into the association's coffers. There are also donations from external partners: the Polytechnische Gesellschaft, Aktion Mensch, Selbst.Los-Kulturstiftung, and the Adolf-und-Luisa-Haeuser Foundation have all given money towards the programme. The President of the Chamber of Commerce and Industry Mathias Müller recently raised money for the association on the occasion of his birthday celebrations, says Wörner. Ten thousand euros were raised this way. But the association is by no means generously endowed. "We always keep a clear view ahead. What comes in is reinvested immediately. Thirty percent of my work is comprised of raising money." For rent, telephone, website, information material, not for staff. According to Wörner, he doesn't earn anything himself from this. He still lives off benefits. And the association only works with volunteers: a graphic designer who creates the information material, a woman who comes around once a week to enter applications into the IT system, and another who maintains the website and, for example, transfers time schedule and discount contingents from the cultural institutions.

Offer even more

The aim of the social entrepreneur is to give out as many passes as possible, even after having reached the ten thousand mark. "80,000 Frankfurt residents, if not more, rely on some form of social security benefits." Wörner would like to move forward in particular in the area of children, and has set his sights on the unaccompanied underage refugees who are arriving in Frankfurt. He wants them all to be given one of his Culture Passes. And the advertising by new cultural institutions continues of course. "I'd like the zoo to get on board. The private cinemas, the clubs. And the large sports clubs, Eintracht Frankfurt, the FSV, the Löwen, the Skyliner, Galaxy. After all, sports are a part of culture, movement culture." Wörner laughs, but quickly turns serious. "Poverty makes people lonely. And they need to get out and about among other people." The first division of the Bundesliga for one euro, then he would have finally made it. But so far, Wörner has got nowhere in this regard. So far. When was the last time he attended a cultural event? He thinks about it for a long time. The farewell celebration of the Fliegenden Volksbühne from the Cantate-Saal, he was there. But other than that? "No time."
Latest project news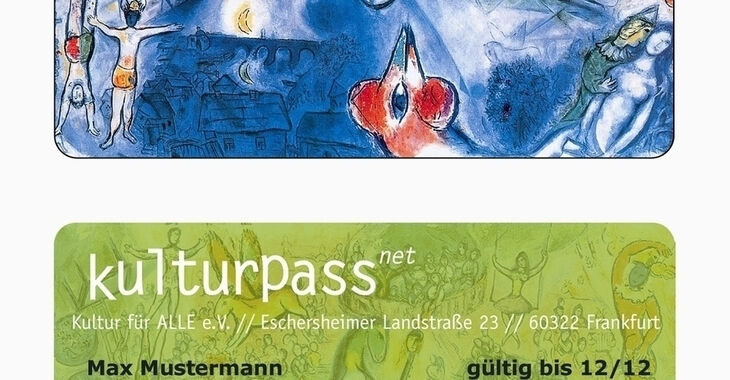 Spendengelder, die nicht mehr für das Projekt ausgegeben werden können
Liebe Spender, bei Projekten, bei denen Spendengelder über einen langen Zeitraum hinweg nicht angefordert wurden, sieht das Gesetz vor, dass die Gelder von der gemeinnützigen gut.org AG (Betreiberin von betterplace.org) zeitnah für deren satzungsmäßige Zwecke verwendet werden müssen. Deshalb setzen wir die noch nicht verwendeten Spendengelder für diese Zwecke ein: https://www.betterplace.org/c/hilfe/spendengeldern-die-nicht-mehr-fuer-das-projekt-ausgegeben-werden-koennen/ Vielen Dank für Eure Unterstützung das betterplace.org-Team
continue reading
Contact
Eschersheimer Landstr. 23
60322
Frankfurt am Main
Germany


Götz W.
New message
Visit our website