Innovation Empowerment Programme
managed by J. Makini
About us
Innovation Empowerment Programme (IEP) was founded in the year 2009 by a group of 4 students from the University of Nairobi who were inspired from a study they had carried out on Entrepreneurship as part of class assignment- Challenges facing Entrepreneurs. www.iepkenya.org. Two of the students (James and Mac) will be graduating in December while the other two are still in campus. Innovation Empowerment Group has been greatly supported and mentored by David Nyameino, CEO, Cereal Growers Association (CGA) ever since inception.

Innovation Empowerment Programme runs a project dubbed "One Hen Campaign Project" that seeks to empower economically women and youths who are in groups to alleviate poverty in our society.
IEP advances a micro-loan in form of a hen and a cage to each member in registered women and youth group. After 6 months one surrenders 2 chicks (once) to the programme for onward lending to other groups and sustainability of the project. The hen and the cage create a platform for IEP to train the farmers on poultry management (Local Hen), Agribusiness, Value chain analysis and appropriate technology.

In poultry management we train them on disease management, vaccination programmes, cross-breeding, multiple hatching, egg handling, selection of breeding stock, housing e.t.c.

In agribusiness we train them to do farming from a business perspective not only for subsistence (home consumption) we help them in market linkages i.e. schools, supermarkets, hotels, local and regional markets e.t.c. and marketing skills i.e. we encourage them to sell as group (Women Group) chances of exploitation are very low. One of our groups (Ensoko Women Group) whom we have trained has embraced indigenous chicken rearing as a formal business for its members. To ensure they get the best price, the group has engaged one of their own as a "Negotiator". Her role is to identify a buyer and negotiate prices on behalf of group members who sell their birds collectively at an agreed collection centre. Through collective marketing the birds fetch between Kshs.350-450 compared to Kshs.250-300 when members sell individually.

We enable our members who are in registered Women and youth Groups identify where to fit in a hen or other produces value chain if they cannot rear a hen directly as a business. i.e. For a hen value chain we have Agrovets(who stock drugs), feed manufacturers, drug manufacturers, suppliers of poultry manure(our farmers), cage makers, poultry slaughterhouses, wholesale and retail buyers of eggs and hens, Government of Kenya(Ministry of Livestock Production), Financial institutions(micro-loaning for up scaling), Transport service providers, Researchers(new breeds and drugs), market information providers.

In embracing appropriate technology, research has shown that One Hen given to a member in our programme will give rise to 100 hens in a year for the "most careless" one; otherwise it may yield more than 100 for the professional member who has been fully trained. Upon multiplication of the hens averagely on a day about 50 eggs can be collected we again come in to train them on appropriate technology i.e. use of incubator.
Latest project news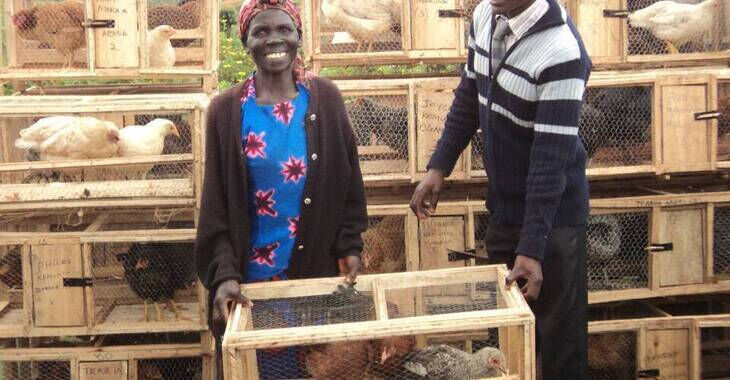 One Hen Campaign Project Wins Global Award
One Hen Campaign World bank Global Award
http://www.nation.co.ke/Features/money/Students+turn+age+old+practice+into+booming+business+venture+/-/435440/1366158/-/or6k2wz/-/index.html
continue reading