Gemeinsam gegen Landminen – GGL AUSTRIA
managed by Barbara K.
About us
GGL is an Austrian non-profit organization. Its goal is to help people in mined regions. In cooperation with national and international partner organizations, GGL Austria currently supports projects in Afghanistan, Burma/Myanmar, Thailand, Ukraine and Iraq.

The aim of GGL's work in Austria/Europe is to raise public awareness of the problems posed by landmines. Most people are oblivious to this problem: In more than 60 countries worldwide, millions of landmines are an imminent threat to life. Every day, an average of 22 people are killed or seriously injured in a mine accident, approx. 80% of which are civilians and almost half of them children.

Even after the end of an armed conflict, landmines present a serious danger to civilians in many countries. However, many of the people concerned are not aware of this threat. They do not know how to safeguard against accidents or what to do in cases of emergency. Mine risk trainings and the demarcation of danger zones can save lives where demining is not yet possible.

=> 'Together against landmines – GGL Austria' finances projects that protect people in affected regions, supports mine removal programs, provides unbureaucratic assistance to mine victims, and helps improve medical care for mine victims.

Despite the worldwide ban on antipersonnel mines, these are still being produced by some states and laid in war zones. GGL Austria also actively supports international endeavors to prohibit mines once and for all.

=> Donations to GGL Austria are tax deductible in Austria and many other EU member states! GGL has been awarded the Austrian Donation Certificate.

Please find ongoing, up-to-date information on Facebook: www.facebook.org/landmine.at and Twitter: twitter.com/GGLandminen.
Latest project news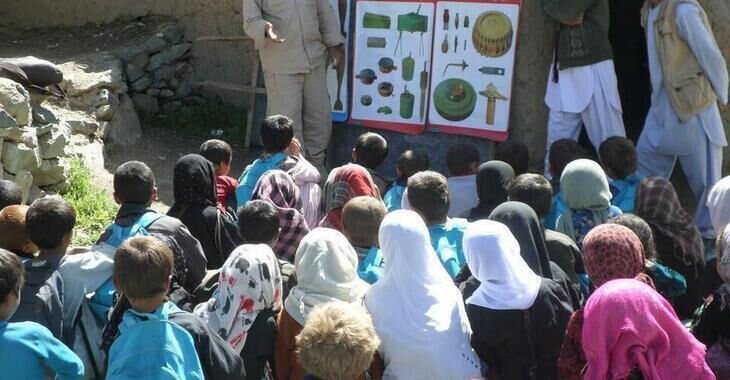 Für diese Bedarfe habe ich eine (Teil-)Auszahlung veranlasst:
Wir und die Entminer unseres Projektpartners FSD tun alles Erdenkliche, um Kinder und Erwachsene in Darwaz vor Unfällen zu schützen. Heuer wurden bereits 249 Minenrisiko- Schulungen für insgesamt 5.123 Personen, davon 4.030 Kinder, abgehalten. Bis zum Jahresende wollen wir noch 10 mehrtägige Einsätze durchführen.
Es wurden 90,00 € Spendengelder für folgende Bedarfe beantragt:
Zehn wetterbeständige Minenwarntafeln 75,00 €Minenrisiko-Schulung u Schulmaterial für 50 Kinder 15,00 €
continue reading
Contact
Hütteldorfer Straße 253a
1140
Wien
Austria


Barbara K.
New message
Visit our website