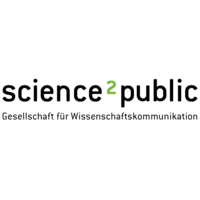 science2public e.V.
managed by Ilka Bickmann
About us
science2public - society for science sommunication e.V. was founded in Halle (Saale) in 2007 as
non-profit association. The aim and mission of the association and its members is to make knowledge and science accessible to people of different genders, origins, biographies and educational levels in order to enable them to shape the future together. Because only those who share knowledge, have access to knowledge and develop an understanding of it can help shape it. To this end, the association has tested and implemented participatory science communication and mediation with different formats and methods from the very beginning. In 2020, the association initiated the Make Science Halle as Germany's first citizen research ship, initially together with four universities located on the river, and established it as a floating mobile citizen research laboratory via a growing network "Blaues Band der Wissenschaft".
Contact
Krukenbergstr. 2
06112
Halle (Saale)
Germany


Ilka Bickmann
New message
Visit our website