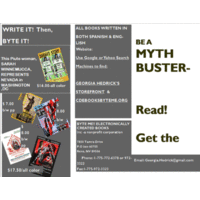 Byte Me! ebooks inc nonprofit dba as ECB
managed by G. Hedrick
About us
have this supreme idea to help the kids over at the Neil Rd area, to teach them and their mamas to write, and illustrate stories in both Spanish and English. I do this each summer for UNR. I only reach kids who can afford to be there.

I want to reach kids who cannot afford to learn to 'ebook it'. I want to reach kids who live nearby on along Neil Road. I am asking a parent group that is now formed, called, COOPERATIVAS DE FAMILAS UNITAS, to be my hosting agency. When they meet, the kids are present. I then teach the kids.

What I need are a few good, but small and cheap, laptops for the kids to use and draw upon. I have found online the ASUS, 2 gigs, laptop of the Linux OS. Each laptop costs $304 + shipping.

This is what I am begging for: $608 or 2 laptops from ASUS. I will use them with the children to draw upon and write upon.

I have attached pictures of me, of what kids can do on a computer as a sample, and a picture of the ASUS laptop. It is on my space at www.betterplace.org. It is under organisations: BYTE ME! ebooks.