Life House Kids Bali
managed by B. Little
About us
LIFE HOUSE KIDS BALI started when I had met a 9 year old boy who was living on the street of Kuta begging for money. I got to know this young boy and he asked if he could move in with us and start going back to school.

Siska, my wife was pregnant at this stage and with our first baby on the way and having a small two bedroom house, we both knew, it would not be wise to take in this young boy.

I did meet the young boy again and explained to him our situation. However, this left Siska and my self with a real heart to do something for the street kids of Bali, Indonesia.

God has used this young boy to touch the hearts of many around the world. Consequently, now we are running an eight bedroom house in South Bali which is fully staffed by Indonesian workers taking in children who need love, care and a place to call home and family.

Still to this day I has not found the young boy to tell him about Life house Kids home but thanks to him every week with the street kids feeding programs, kids are constantly being invited to come and live at Lifehouse Kids home and start a new life.

LIFE HOUSE KIDS BALI includes two programs. One is the street kids program and the other one is the orphanage.
Latest project news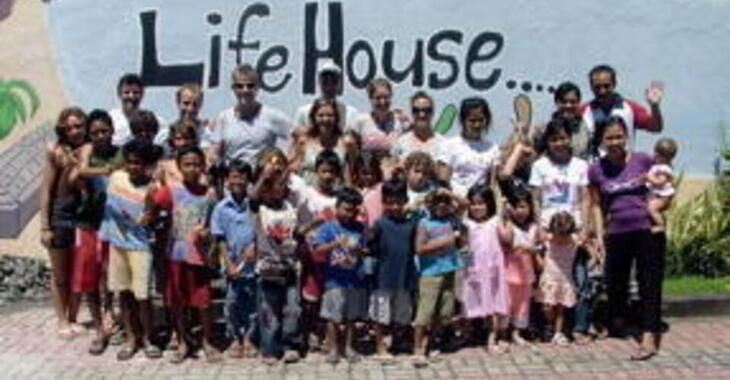 CLEANLINESS IS NEXT TO GODLINESS
Helo Everybody,
this time I want to tell you a little bit about an event, we had last month...
BEACH CLEAN UP – Last month we had been teaching the  children about how to care for their environment, especially how to  deal with rubbish. We decided we needed to start this environmental  care at home. We explained to them about different kinds of rubbish  and how to handle it. As you may know, there are many beaches in Bali  contaminated with all kinds of plastic rubbish; people don't have much  awareness about their environment. So we took the  children to one of the beaches around our area and we cleaned up  the beach by picking the organic and non-organic rubbish. We brought  the rubbish home and gave away the recyclable rubbish to the rubbish  collector next door and the organic stuff we used for compost to  fertilise our farm. We had fun that morning, picking up rubbish,  having a picnic but due to bad weather the waves were too big for us  to swim. The children were a little disappointed but as it was for our  own safety we decided to go home. After walking up lots of stairs, we  rested a bit and a couple of westerners came up to us and asked what  we're doing and why. When we explained it, they were so amazed at what  we were doing and really thanked us. Then they went on to say that  they own a hotel on the beach and in all their time running the hotel  they have never seen any one come and clean the beach. The owner  then invited us to swim and have some snacks in his hotel.  The  children were screaming happily and kept saying, "This is amazing,  swimming in the pool is sooo much better than facing the big waves on  the beach and we can wash ourselves from all the sand". When we're  heading back home, the lady who owns the hotel told us, anytime you  clean the beach here…please let me know and you are most welcome to  hang out around my hotel for snacks and swimming."
Doing good things isn't too bad...: )
Wish you all a very good start in 2010. All the best
Brad
continue reading