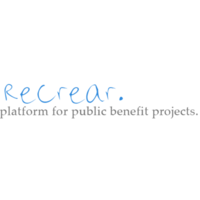 Recrear
managed by G. Gioacchino
About us
Initiated by an international group of students and young professionals, Recrear is a grass roots project. Recrear aims to connect non-profit organizations, private individuals and businesses to empower people in need across the world. In this sense, Recrear serves as a networking platform to focus and gather capacities for public benefit.

Recrear works as a hub.
It connects people, sponsors, and innovative projects in the social sector, thereby enabling access to resources while micro-financing with knowledge and skills rather than funding. Recrear encourages initiative at every level for the development of sustainable and culturally sensitive projects. Our focus is on empowerment, especially of the youth and women.

As the current code of conduct in business is not sustainable for the earth and the people, Recrear is promoting ethics in the business and corporate world. Ethical behavior and good leadership call mercenariness, nepotism and greed into question. Ethical behavior and good leadership are the key to fight corruption and recession.

In summer 2010, Recrear will be launched out of Recrear.beta, a summer camp for young creative minds in Berlin as an international, non-profit organization.
Latest project news Introducing Recrear
More than two years ago, a group of 250 students form all over the world travelled together from Greece to Hong Kong on board of The Scholar Ship (TSS), a transnational learning community designed to develop intercultural competence.  It was from this connection that last summer in Berlin a group of TSSers decided to create a follow-up project in order to nourish the ideas creating aboard TSS and to create a new venue to develop ideas of dialogue and cooperation further. Recrear—Spanish for recreate—is based on the belief that group collaboration and brainstorming are extremely powerful and can be channeled to create good in society.
Recrear, envisioned as a platform for materializing public benefit projects, will be aimed at supporting young people in developing and carrying out projects in the field of international development. The founders of Recrear believe in the potential of young activists, who are generating a number of promising ideas often lack the resources and support to develop their independent projects and put their skills into practice. Recrear aims to provide the necessary guidance for these projects by connected global resources and generating micro-projects that are developed and run by young people for young people worldwide.
Recrear will be launched in August 2010 out of Recrear.beta, a 3 week conference with selected participants from around the world who will live together, engaging in cultural exchange, leadership workshops, NGO training, and develop a common vision about positive global change.  
In order for Recrear.beta—and thus Recrear—to come to fruition we are trying to raise 30,000 Euros in order to cover the cost of hosting and inviting guest speakers, offsetting food and housing expenses, and contributing to traveling costs for participants.  Our need to raise more funds is dictated by our interest in keeping the participant fee as accessible as possible. For the project we are charging each participant 400 Euros, which will cover their room and board. 
In the attached document, we encourage you to read more about Recrear and Recrear.beta.  You will find information about our organization objectives, our 1 and 5-year goals, a sample of participant and guest speaker biographies, a description the activities planned for Recrear.beta, and our budget.
We look forward to receive feedback and support from you.  If you are involved with an organization potentially interested in being a partnerof Recrear, let us know; we are eager to set up new partnerships.
Sponsors can donate to PayPal at http://re-crear.org/sponsoring or contact us for more details at http://re-crear.org/contact-form.
Thanking you in advance for your time, attention, and support,
Gioel Gioacchino and Christian Waloszek
Program Coordinators, Recrear 
continue reading
Contact
3308 Castiglione
70119
New Orleans
USA


G. Gioacchino
New message
Visit our website